Art plays a crucial role in the development of vibrant cities. It can express our community values and enrich our community and our image. Public Art is accessible to everyone. The City of Prince Albert Public Art Program is committed to getting and maintaining great public art that provides joy through its experiences.
Learn more from our Public Art Policy. Check out our Event Calendar to explore upcoming art events in our community.
View our Public Art
Photo Gallery: Public Art will appear here on the public site.
Take the Public Art Tour
The new Public Art & Heritage in the Heart of Prince Albert brochure guides you to ten outdoor public art installations in the central and downtown areas of Prince Albert. Public Art is designed to be accessible and builds a visually rich environment, highlighting the heritage of Prince Albert. Grab your shoes, water bottle, and a camera and enjoy the self-guided tour.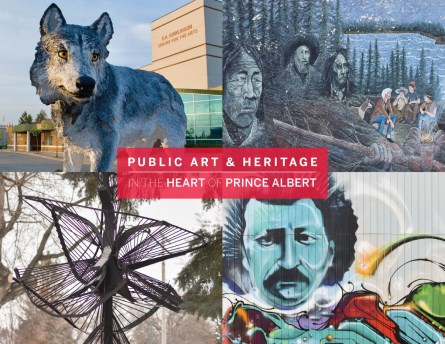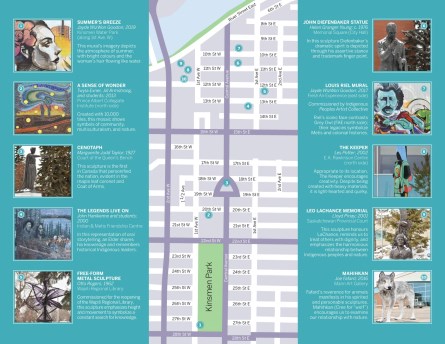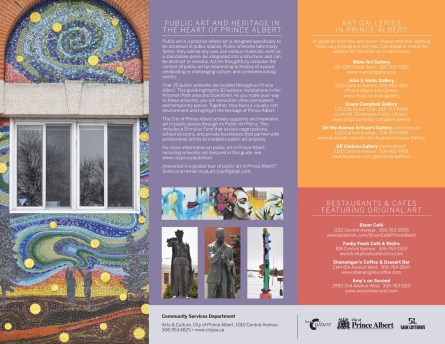 If you are interested in a guided walking tour, there are two options:
Prince Albert Public Art Guided Tour - Downtown; and
Prince Albert Public Art Guided Tour - Central Prince Albert
These are walking tours and you can expect to be on your feet for one to one and a half hours. To arrange a guided tour, please email pa.art.tour@gmail.com.
Public Art Goals
The goals of the City of Prince Albert's Public Art Policy are to:
Build a visually rich environment;

Inspire community belonging and memory, enhancing quality of life and place;

Tell the story of and highlight the rich heritage including First Nations and Metis and the diverse cultural make up of Prince Albert;

Encourage the placement of public art throughout our City including large scale developments and residential neighbourhoods, identifying the unique character and/or history of that neighbourhood;

Offer an engaging option for commemoration of individuals, groups or events;

Provide art opportunities that are freely accessible to all;

Play a role in attracting, nurturing, and retaining creative businesses and workers, including artists;

Provide creative opportunities and recognition for Prince Albert, Saskatchewan, as well as Canadian and International Artists;

Strategically seek donors and funding opportunities for Public Art;

Serve as a catalyst to economic development and tourism;

Encourage public involvement, connections, and appreciation of the arts and cultural interaction; and,

Develop a City wide, including neighbourhoods, Public Art plan that considers various criteria.
Public Art Working Group
The Pubic Art Working Group oversees and advises on the Public Art Policy and projects to the Community Services Advisory Committee and City Council. If you are interested in this active working group, contact the Arts & Culture Coordinator at the Prince Albert Arts Centre.
Community Public Art Projects
Historical Museum First Nations & Metis Murals
The Mural Project, located in the Connaught Room of the Prince Albert Historical Museum, includes artwork designed by Leah Dorian and Kevin Pee-Ace, painted by the public, Queen Mary School students and Northcote Manor residents. The artwork was suggested by the Metis and First Nations Knowledge Keepers to promote Indigenous arts. The murals are on display along the top of the Connaught Room along with pictures and artifacts that create an important, permanent interpretation of Indigenous history in the Prince Albert area.
The mural was named Runner-Up for Excellence in Community Programming for 2019 at the 12th Canada's History Forum at Rideau Hall in Ottawa.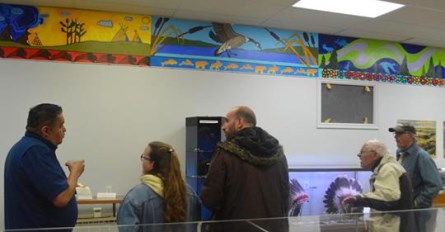 HOPE Poetry Pop-Up (project of the Culture Plan)
This project was sparked and coordinated by Lynda Monahan and completed through the Municipal Cultural Action Plan.
The goals were:

To provide messages of hope and health to the public and for the community through poetry
To provide opportunities for artistic expression in the city center and riverbank(Kistahpinanihk – the gathering place)
To inspire the public through poetry
To connect the work of local poets to the community
The theme for the poems was "hope" and artists were encouraged to submit their poems, with 30 to be accepted. We received 70 poems! Twenty of these poems were hung in storefront windows in the downtown (including City Hall and Gateway Mall) and ten along the riverbank in poetry box stands.
We hope you enjoy them!
Thank you to our partners/supporters: Lynda Monahan - Artists/Poets - Laurier Gobeil and the Provincial Correctional Facility Downtown - Markit Signs

See the Poetry Booklet here.
Temporary Public Art
Crosswalk Art in Prince Albert
Crosswalk art can be found throughout parts of the city. These fun crosswalk designs were created by local and provincial artists and painted by City of Prince Albert staff.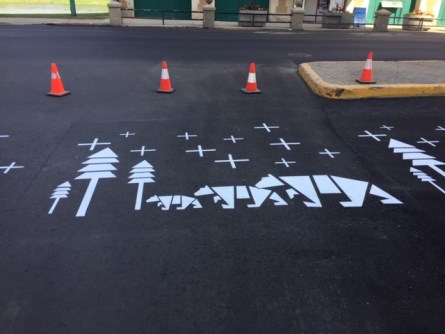 Artist & Arts' Organizations Inventory
Together with the Prince Albert Arts Board, we are compiling an inventory of Artists and Arts Organizations in Prince Albert and area. If you want to be part of a network and receive information about arts opportunities, please self-register. Remember to update your information as needed. Thank you!
Public Art Stimulus Fund
The Public Art Partnership Stimulus grant provides funds in support of one or two project(s) per year that can assist a professional artist, Prince Albert professional arts organizations, non-profit organization, municipality, school division, or private business, partnering with a professional artist, to complete a public art project. Before applying, please review the fund criteria. The Public Art Stimulus Fund application can be made at any time throughout the year. Funds are limited so plan ahead: