Prince Albert is a city rich with culture, history, diversity and the arts!
Whether you are an artist, a local, or a visitor, discover our community's culture and the many creative things to explore and do here in our beautiful city. From Galleries to creative and unique Festivals like Tapestrama and ChesterFest, a Downtown Cultural District to Indigenous artwork, we have so much to offer.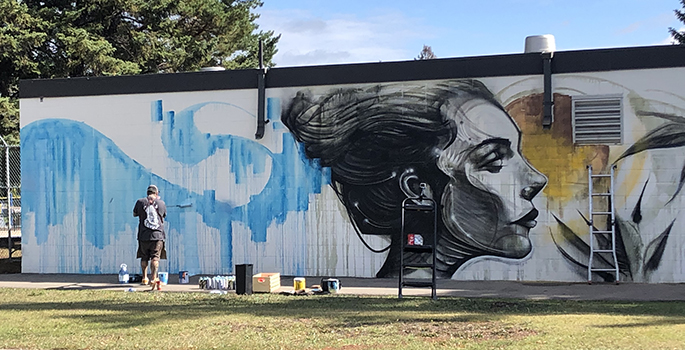 Civic Arts Policy
The Civic Arts Policy ensures investment in the arts that has a clear and measurable impact on our aesthetic, social, economic and cultural quality of life.
Arts and Culture Grants
We offer grants that support the further development of arts and culture in our community.


Artist Payment Guidelines
Prince Albert is a vibrant artistic and cultural community. We have many talented artists from visual to theatre, literature to media, and music to dance.
As an artist, you need to be paid for your work. This is your profession, just like other professions. Let's keep strengthening our artistic and cultural community. Here are some Artist Payment Guidelines to consider.
Review what Event Organizers can consider for Artist Payment Guidelines.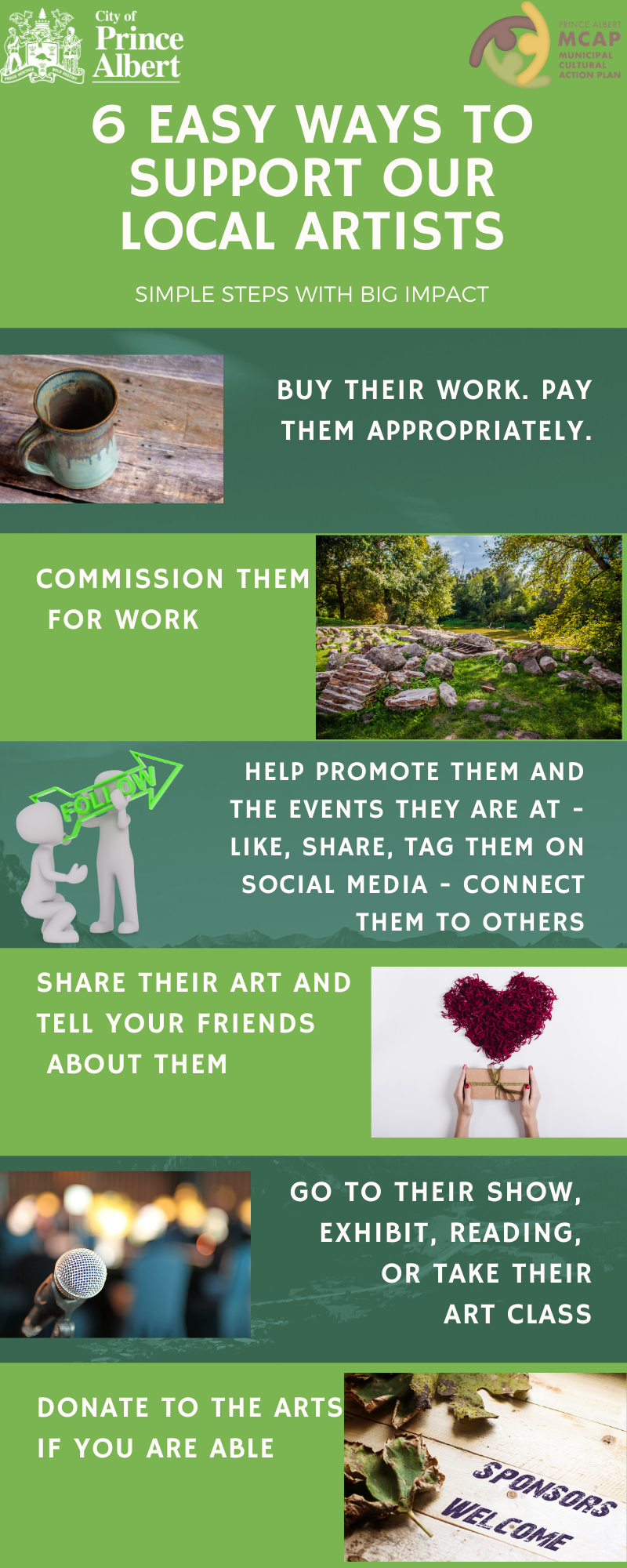 Culture Days 2021 - RE:IMAGINE the Possibilities
Your Prince Albert Culture Days committee has chosen RE:IMAGINE the Possibilities as the very apt 2021 theme. The annual celebration of arts, culture and a life enriched by both will again roll out as a 4-week celebration across Canada from September 24 through October 24, 2021. RE:IMAGINE signals a positive turning point—the commitment to building tangible change into the future of art and culture. Visit CultureDays.ca to learn more about the festival and how to get involved.
Prince Albert, through a committee of several partnering organizations and with the support of the SaskCulture Culture Days sponsorship, host free Culture Days community events. We have many fun events planned for you! Follow our website page or Facebook page to learn more!
This year we are also offering a Culture Days Micro Sponsorship to organizations or businesses that want to host a free culture days activity or event. Applications will be accepted on a first come, first serve basis until the funding runs out.
Culture Days is a national celebration of arts and culture. Each year, millions of people attend thousands of participatory arts and culture events across the country. Culture Days programs invite the public to get hands-on and behind-the-scenes to highlight the importance of arts and culture in our communities.
Culture Days Hub Page Culture Days Facebook Page
Culture Plan
The Municipal Cultural Action Plan is a plan for Prince Albert to be a stronger cultural community that supports the arts, preserves heritage and enhances tourism in the city.
Creative Kids
Creative Kids is a charitable program that provides financial assistance to children and youth 19 years of age and under who would like to participate in art, culture or creative experiences. The program helps cover the costs associated with participation which may include registration fees, equipment or supplies.
What's eligible?
Activities eligible for Creative Kids funding are wide-ranging and may include art lessons, dance classes, language lessons, music instruction, cultural camps, heritage activities, multicultural dance and all other activities that are associated with art, culture or creativity. Creative Kids relies on donations, and 100% of all funds raised for Creative Kids will go towards supporting program participants.
How to apply and more information
Deadlines for 2021
Friday, May 28
for summer activities and early fall applications
Friday, August 13
for fall activities and activities that follow the school year
Friday, December 3
for activities that begin in January
For more information visit the LDSCR website at www.lakelanddistrict.ca or the Creative Kids website at www.creativekidssask.ca or call the Lakeland District Creative Kids Committee at (306) 953-1623, extension 4.
Funded through a partnership with Give Kids a Chance Charity and SaskCulture, Creative Kids is modeled after KidSport which provides financial assistance for children and youth wishing to participate in sport activities. Creative Kids has a local committee through the Lakeland Sport, Culture & Recreation District to review applications and manage this program.