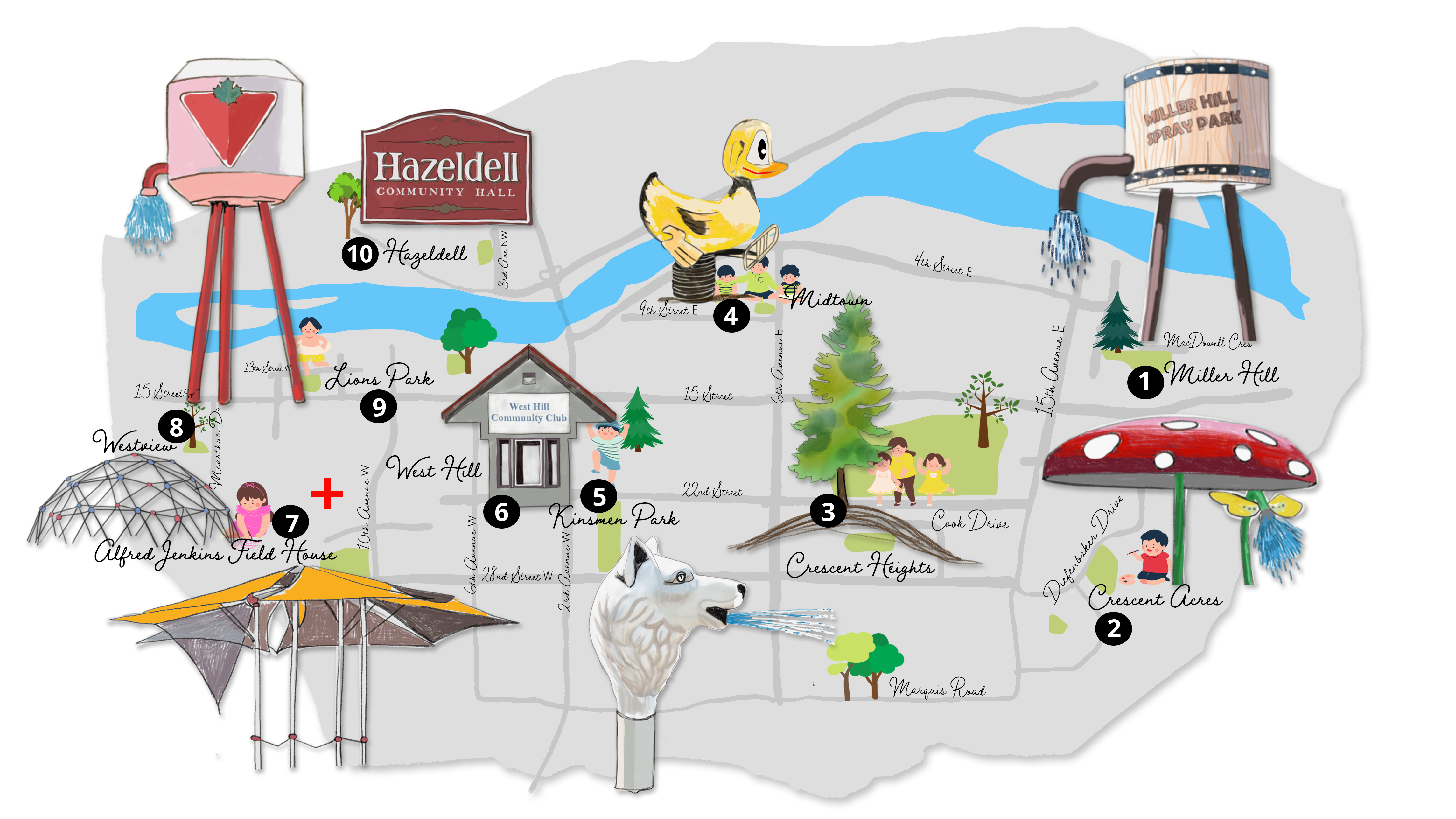 Download a PDF Playground map here
Playground Program 2023 Dates: July 4th to August 19
Into the Woods with Wildernook 2023
About the Playground Program
It's free! This is a drop-in program-children can come and go as they want.
It's for children aged 5-12.
Two trained supervisors per playground - see details below.
10 Locations throughout the City
Hours of Operation
Monday to Thursday: Noon to 5:30 p.m.
Friday: 1:00 p.m. to 5:00 p.m.
Kinsmen Park location hours
Monday to Thursday: Noon to 5:30 p.m.
Friday: 1:00 p.m. to 5:00 p.m.
Saturday & Sunday: 1:00 p.m. to 5:00 p.m.
Contact Information
For general information call 306-953-4816 or email: csd@citypa.com.
Play Leaders Training details
All play leaders have received:
High 5-Principals of healthy childhood development certificate
LDSCR play leadership training
WHMIS
First Aid & CPR/AED level C
All Play Leaders also attended a week-long orientation to the Prince Albert Playground Program that included visits with the Social Services department, Parkland Ambulance, and resources from Prince Albert Parkland Health region about concussions, lice, and ticks.
KidzFest 2023
There's more!
Special Thursday events for 2023
The children from each playground will get bussed to a location every Thursday. They will need to get a permission slip signed that the play-leaders can hand out earlier in that week. Special event permission slips will be handed out on Mondays and availability will be on a first come first serve basis.
Add dates - Guiness book of playground records!
Add dates - When I grow up!
Add dates - KidzFest at Kinsmen Park - 1:00 p.m.
Add dates - Mud Mania!
Add dates- Once apon a playground!
Add dates - Into the Woods at Little Red River Park
Add dates - Under the sea!
Playground Themes for 2023
1. Around the world
2. Career
3. Holidays
4. Science
5. Fantasy/ Disney
6. Nature / The Wild
7. Under the seas
Inclusive Playground Days at AJFH
Once again this summer, the city will welcome children with disabilities to let them have exclusive use of the many inclusive elements at Alfred's Playground at the Field House.

The JumpStart playground is the only one of its kind in the province and has many unique features designed specifically for children with disabilities. While the inclusive elements of the playground will be reserved during this time, the other two wings of the playground will remain open to the general public.

Add dates