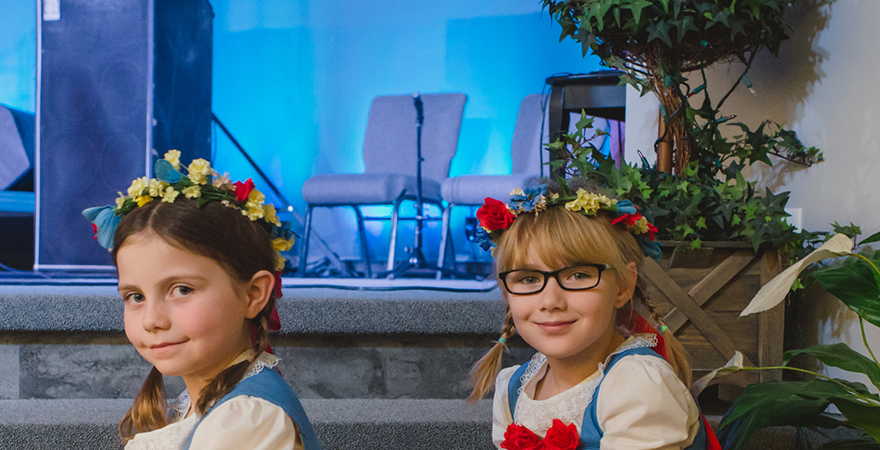 Prince Albert has an active arts and cultural community. There are numerous organizations, businesses, and Groups and Guilds offering creative services in the City. Please see the listing below, sorted by the art's category.
If there is an organization or business missing, or to provide updated information, please send us an email with this information.
Artist & Arts' Organizations Inventory
Together with the Prince Albert Arts Board, we are compiling an inventory of Artists and Arts Organizations in Prince Albert and area. If you want to be part of a network and receive information about arts opportunities, please self-register. Remember to update your information as needed. Thank you!
Dance
Ballet and All that Jazz
#7 - 184 South Industrial Drive
The studio offers a positive, encouraging space for dancers to train and grow, complimented by a healthy dose of classical ballet discipline.
Performing Arts Warehouse
301 13th Street East
The Performing Arts Warehouse offers recreational and exam oriented classes for children aged 3 and up as well as adult classes.
Bold Dance Productions
320 13th Ave E
At Bold Dance Productions you come for dance lessons, and you stay for the community! By offering both recreational and competitive level classes, every dancer is able to find their love of dance.
150 32nd Street West #6
Prince Alberts newest dance studio offering classes from 18 month to adult.

Prince Albert Barveenok Ukrainian Dance Club
752-14th Street West
The Prince Albert Barveenok Ukrainian Dancers Inc. is a non-profit organization dedicated to the preservation of Ukrainian dance and culture in our children and our community.
Drama/Theatre
Broadway North Theatre Company
Broadway North provides arts education programming to students ages 7 – 18 years old.


Mad Hatter Theatre Company
The Mad Hatter Theatre Company celebrates the artistic endeavour and accomplishments of the thespians of Carlton Comprehensive High School.


Odyssey Productions
Odyssey Productions is a not-for-profit theatre group operating in Prince Albert since 1991.


Off the Cuff Improv specializes in sketch comedy, improv, and interactive comedy shows like murder mysteries, medieval feasts, mock weddings, and "surprise special guest" appearances.
Prince Albert Community Players
Prince Albert Community Players (PACP) was founded in 1959, making it the second oldest theatre company in Saskatchewan.
Spark Theatre
Spark Theatre aims to produce new and existing work that entertains, provokes thought and ignites dialogue for Prince Albert theatre goers. Rooted in the unique composition and needs of our community, Spark Theatre is committed to enhancing the artistic fabric of our region, embracing works and artists that will expand our horizons.

Upstage Productions
Ecole St. Mary High School
St. Mary High School's theatre company produces two shows each year.
Literary
Prince Albert Writers Group
Anyone with a love of writing is welcome to join.
Music
Jam Street Music
Jam Street offers rock band lessons to students of all ages. Experience your instrument in context, make music with other musicians and build performance skills.

Mosaic Music
Mosaic music is a locally owned business providing the community with music lessons including piano, guitar, vocal, violin and drums. A large, affordable selection of instrument and music accessories ranging from cables to microphones to strings. The recording studio is available to all artists at a reasonable price.

Music for Young Children
All MYC® levels incorporate singing, listening and ear training, movement, keyboard, rhythm ensembles and dictation, and composition into their curriculum. Within all of these elements, and all concepts taught using all four learning styles (visual, analytical, tactile and auditory) are engaged and used to ensure that each child is able to received, and understand, to their best ability, everything that is being taught.

Pizazz Music
Pizazz Music Studio offers the Music for Young Children Piano Program where children as young as 2.5 are introduced to the exciting world of music.

Spectrum Sound
Spectrum Sound does live sound for bands board meetings large or small.

Tri Sonic Sound
Sound systems, DJ service and more!
Visual Arts
Aspen Films
If you're going to put time and effort into a video, you deserve one that people like watching. Not too long. Not boring. A film that inspires. Get the results you're looking for with Aspen Films.

Big Drum Media
Broadcasting and media production company

Christina's Art School
625 Branion Dr
Classes offered are Adult and School Age (ages 8 and up). Yearlong classes are offered as well as weekend workshops. Mediums taught are graphite, charcoal, coloured pencil, wax pastel, oil pastel, india ink & water-colour cakes, acrylic and watercolour.
Messiah Lutheran Church1796 15th Avenue East
The P.A. Quilt Guild meet every 2nd and 4th Tuesday of the month. You can also find them on Facebook.

Common Threads Quilting and Yarn
A specialty quilting and yarn store that features an local artisan boutique with a focus on Indigenous artists and makers and items that uniquely represent Prince Albert and surrounding area population. Lessons are also offered on knitting, crocheting, and beginner sewing.

iMAGine Arts Education Program
142-12th Street West
The iMAGine Arts Education Program, through the Mann Art Gallery, offers exhibition tours, drop-in art activities, professional development opportunities, and more.

Prince Albert Arts Centre
1010 Central Avenue
A thriving arts facility offering a wide variety of art, craft and creative opportunities for all members of our community.

On the Avenue Artisan's Gallery
911 Central Avenue
On the Avenue - Artisan's Gallery is a space for local Prince Albert and area artists and artisans to showcase their talent. There is something for everyone here!

Gail Carlson Gallery
1120 Central Avenue
Studio and gallery with unique ceramic gift ideas.
710A 15th Avenue East
We are a privately-owned creative space committed to exploration, education and practice in the visual arts.