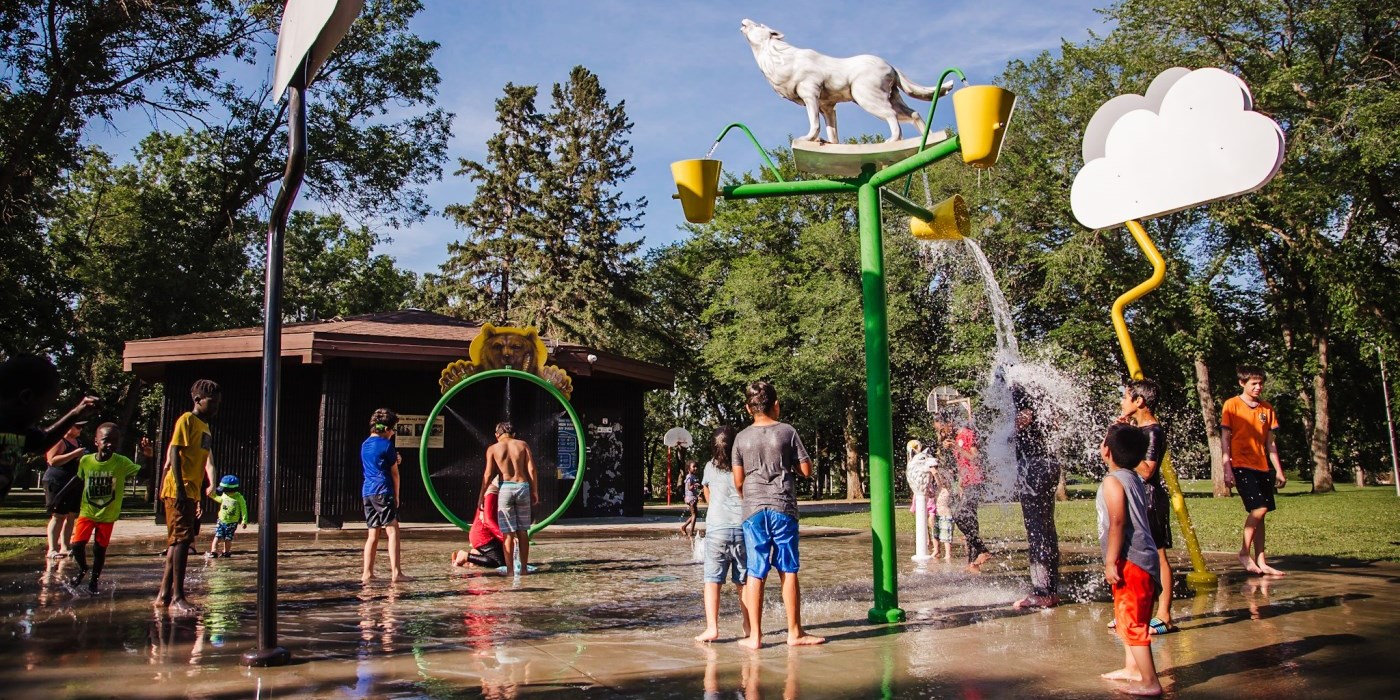 For locations and availability please see our Facilities Module.
All Spray Parks are OPEN for the Summer of 2022! The only exceptions are the Crescent Heights Spray Park which will open soon, and the Hazeldell Paddling Pool that opens in conjunction with the Playground Program.
Alfred's Spray Park
Located at Lions Park
1301-13th Street West
Hours: 8:00 a.m. to 8:00 p.m.
With the significant financial support of local businessman Malcolm Jenkins of Canadian Tire, the spray park expands from 2 to 6 components and an increased area covered by a rubberized surface in Canadian Tire red.
The $160,000 expansion was supported by $100,000 from Jenkins to provide Alfred's Spray Park with interactive spray components including:
HELICES – This versatile feature creates an organic accent and cascading water effect;
SOLIS 36 Water balls – Its cascading water effect encourages sensorial play for all ages;
SPIN SPRAY 2 – The Spin Spary 2 is a wave- shaped feature that lets water players rotate its arching spray onto those nearby;
WATER TOWER –It's large spout drenches water players below, while smaller spray nozzles create a refreshing mist;
LILY PADS – Ultra Low Spurt Nozzle, and;
MEGA SOAKER "The BIG SPLASH" – giving users a thrilling head-to-toe splash with 40 gallons (151 litres) of water dumped on those below.
Crescent Acres Spray Park
Located next to the Crescent Acres Community Club in Crescent Acres Park
1691 Olive Diefenbaker Drive
Hours: 8:00 a.m. to 8:00 p.m.
Crescent Heights Spray Park - NEW COMING THIS SUMMER
Located behind the Crescent Heights Community Club n the Crescent Heights Park
998 Branion Drive
Hours: 8:00 a.m. to 8:00 p.m.
Opening in July!
Features in the New Spray Park will include:
Aquagather
Flashflood
Tot Shower Dome
Flashflood
Mini Flashflood
Tot size wellspring
Whirlflex
Junior Water Jewel
Mini Pillar
Triple Arch Jet
Aquavator
Kinsmen Spray Park
Located in Kinsmen Park
55-22nd Street West
Hours: 8:00 a.m. to 8:00 p.m.
Midtown Spray Park
Located next to the Midtown Community Club in Midtown Community Park
540-9th Street East
Hours: Open to the public Monday to Friday 1:00 p.m. to 5:00 p.m. Booking times outside of these hours are available by contacted the the Midtown Community Club at pamidtownhall@gmail.com
Miller Hill Spray Park
Located in Miller Hill Park
200 Macdowall Crescent
Hours: 8:00 a.m. to 8:00 p.m.
West Hill Spray Park
Located next to the West Hill Community Club, adjacent to Ecole St. Anne School
2320-6th Avenue West
Hours: 8:00 a.m. to 8:00 p.m.
West View Spray Park
Located in James Isbister Park next to Westview Community School
620 Macarthur Drive
Hours: 8:00 a.m. to 8:00 p.m.
Paddling Pool
Hazeldell Paddling Pool
Located in the Hazeldell Park next to the Hazeldell Community Club
325-3rd Avenue NW