We have a productive year planned for 2021. See below for a list of capital projects to watch for this year.
New Aquatic and Arenas Recreation Centre
Progress continues on the development of the new recreation centre.
15th Street from 1st to 6th Ave Paving and Widening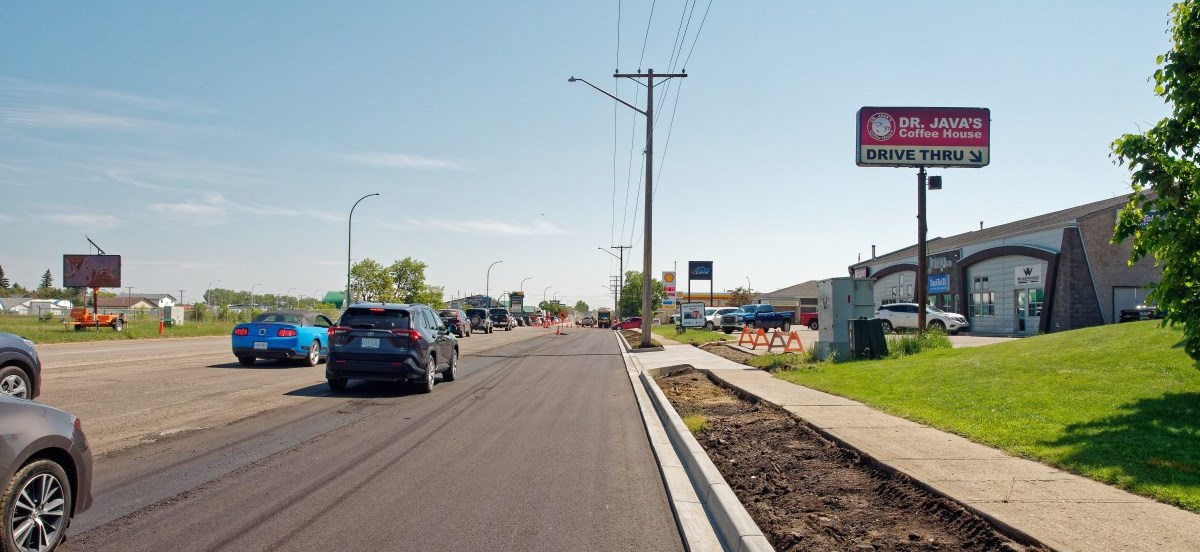 Roadway reconstruction on 15th Street East from 1st to 6th Avenue East is now complete.
What can be expected:
The project scope included:
1. Street widening to include a 3rd lane in both directions of travel.
2. Construction of new curbs and gutters.
3. Milling and Repaving.
4. Partial reconstruction of business accesses on to 15 Street.
5. New Signalized Intersection at 4th Avenue East. Installation of medians.
6. Reconfiguration of Intersection at 5th Avenue East. Installation of medians.
7. Crown Utility Upgrades in both boulevard spaces.
Timeline:
The project started June 7, 2021and was opened in Mid-September.
Media Release: Paving Complete, All Lanes Open on 15th Street
Raw Water Pump House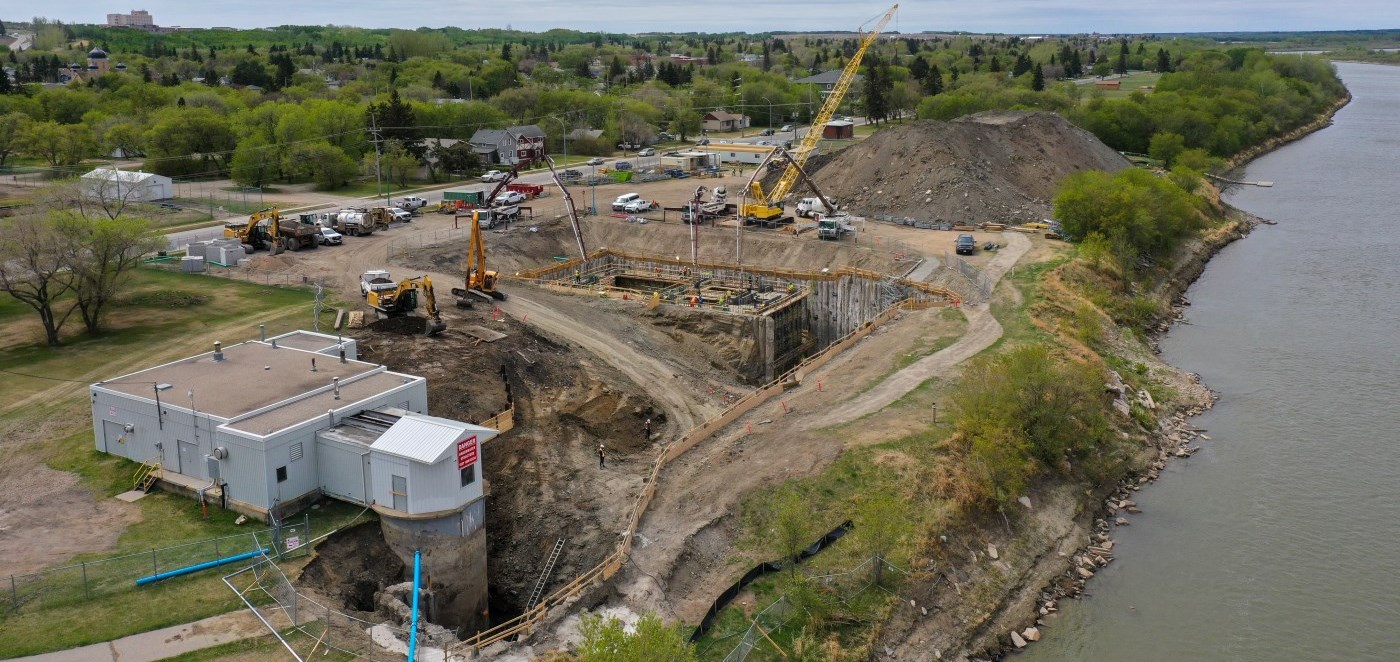 Photo Courtesy of PCL Construction
View Drone Footage of Project Construction
The Raw Water Pump House, across from the Water Treatment Plant along the riverbank, is responsible for pumping raw water from the North Saskatchewan River to the water treatment plant for treatment, storage, and distribution. The facility itself was constructed in a number of phases, with the oldest portions of the facility dating back to 1920. The Low Lift Pump House consists of an intake, wet wells, pumps, a rudimentary screening structure, a boiler system for seasonally clearing ice and a potassium permanganate dosing system.
Due to the age of the facility and the multiple structures and foundations of varying ages and deteriorating condition, a new Raw Water Pump House will be built to replace the existing facility in 2021.
The project includes the construction of the new Pump House. This five-story building is 2.3 meters below the river level and once complete, 16,000 to 18000 cubic meters of water a day will flow through it. Using secant pile walls, the footprint of the construction zone is kept to a minimum, protecting the riverbank, ensuring that the existing pumping facility remains in operation until the new Pump House is constructed, controls water infiltration to the worksite and ensures a safe work area. The total estimated project cost is $18.9 million.
There are many benefits to the new facility.
The new design will protect the ecosystem of the river through a screening and monitoring process that removes debris and diverts fish and other aquatic species back into the river safely.
More pumping efficiency and energy savings. The facility runs 24/hrs a day 7 days a week.
Two independent screening systems in the facility to create redundancy if one side goes down, the other will continue.
Remove sand and sediment to make for easier cleaning and maintenance.
Please read more on the construction details on the PLC Construction website.
Timeline:
Construction on-site at the facility began in the fall of 2020 and will continue throughout 2021. It is expected that the pump house will be operational by the Summer of 2022.
Location: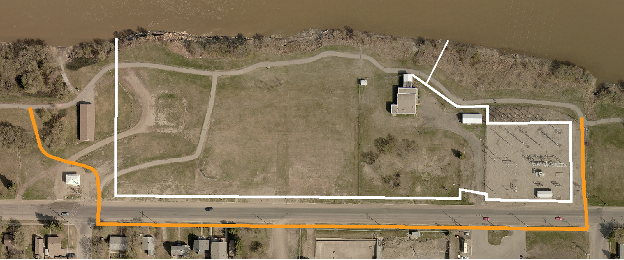 The construction of the facility will be across from the Water Treatment Plant on River Street West between 6th Avenue and 8th Avenue.
What Can be Expected:
The existing Raw Water Pump House will stay in operation until the new facility is complete. It will be constructed West of the existing location and will include:
Construction of an approximate building size of 12.8m x 27.4m.
The new pumping facility will have a below grade structure beneath the building footprint of an approximate size of 12.8m x 27.4m. The below grade structure and foundations will extend to an approximate depth of 15.8 meters below ground surface.
Fish screen system involving travelling screen for fish and debris management complete with a fish return system.
Fish pump in the prescreening chamber.
Sand management including sand settling bay and sand pumping system.
Frazil ice management system including heater water to pre-screening chamber and travelling screens.
Pump room including 3 raw water pumps with an ultimate pumping capacity of 418 l/s.
Electrical, mechanical, civil and process works within and around the new pumping facility to provide raw water pumping to the City of Prince Albert water treatment plant.
Civil and landscape work related to the project works;
Demolition of existing Raw Water Pump House and utility tunnel.
Disruptions:
The area under construction is largely unpopulated. Some residents in the area may notice additional construction activity and a section of the Rotary Trail will be detoured for the duration of the project.
New Landfill Cell

The two cells for general municipal solid waste at the landfill, 1A and 2A, are reaching capacity. In 2021, work will be completed to expand Cell 1B and retrofit Cell 1A, 2A and 1B. This work will generate an estimated 20 years of waste capacity at the current 5 year average of 80,746 tonnes per year.
The survey data has determined that approximately 60,400 cubic meters of airspace was consumed over a year from 2019 to 2020. The expanded Cell 1B will be built to handle hydrocarbon and municipal solid waste. The projected budget for the landfill cell expansion is $6.33 million.
The work at the landfill is expected to be complete by the fall of 2021.
What can be expected:
In 2021, cell 1B will The 2021 project scope will include earthwork, clay liner, HDPE liner, drainage aggregate and leachate collection system.
Disruptions:
The work at the landfill is not expected to have any impact on landfill operations.
Marquis Road Extension

The construction of 1.32km of roadway on Marquis Road West from 7th Avenue to 10th Avenue and 10th Avenue West from 28th Street to Marquis Road is now complete. . The arterial roadway serves the Victoria hospital which has been identified for a $300 million expansion. This roadway was identified as priority in the 2017 Transportation Study as a need in next 5 to 10 years to increase traffic capacity in the area.
The total project budget is $5.37 million which includes the installation of water, storm and sewer mains that was completed in 2020.
Media Release: Marquis Road West Construction Now Complete
Location:
7th Avenue to 10th Avenue and 10th Avenue West from 28th Street to Marquis Road:
What can be expected:
The roadway will include a paved surface and an intersection installed at the corner of 28th and 10th Avenue. Since the entire area was excavated just last year to install the underground infrastructure (water, sewer, storm), there will be natural settlement occurring. The final top lift of paving will be laid in 2022. Drivers will notice a small lip at either end of the new surface for a year.
The federal Canada Community-Building Fund program in Saskatchewan is administered by the provincial government to help support municipalities.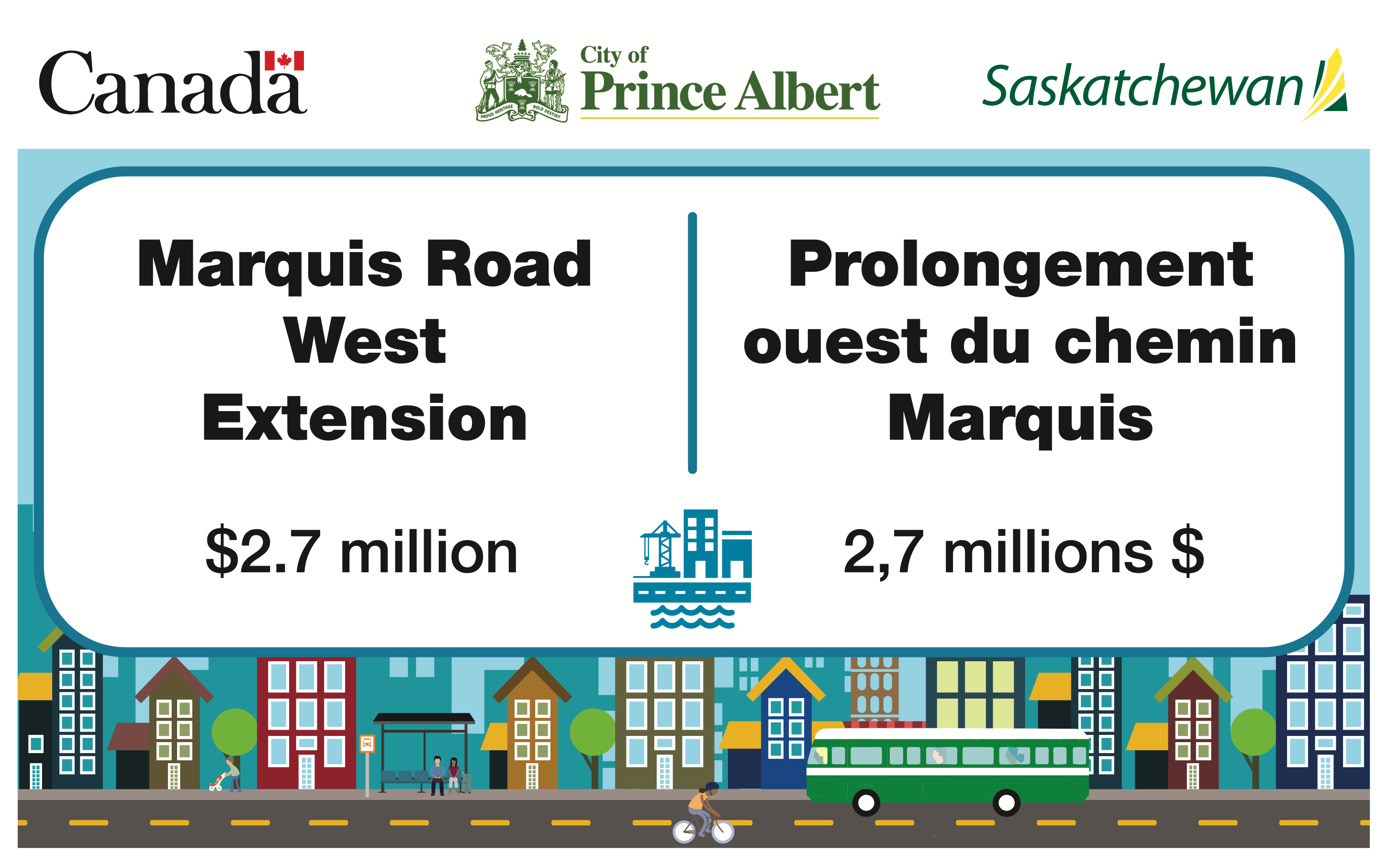 Paving and Utility Replacement Program
Each year streets are identified to be repaved and underground utilities replaced.
Please see the Paving and Utility Replacement Program page for a complete list of streets identified for 2021.
Pedestrian Bridges

There are five bridges at Little Red River Park. Three are targeted for replacement in 2021.
Media Release: Construction to start on three Pedestrian Bridges in Little Red River Park
The Sliding Hill Bridge was demolished in 2013 following flooding in the park which eliminated access to playground and picnic structure. The Lion's Gate Bridge, located closest to the Cosmo Lodge (Knotty Pine Bistro), was repaired and reinstalled in 2014 following the 2013 flood, but structural deficiencies remain. The Sports Council Bridge, located in the upper plains of Little Red, has an embankment that is eroding and decaying retaining wall.
$1.6million has been allocated that last two years for the replacement of pedestrian bridges in Prince Albert. The final cost of the bridges to be constructed in 2021 will be available once the tender for the construction is awarded (expected in June 2021).
Locations: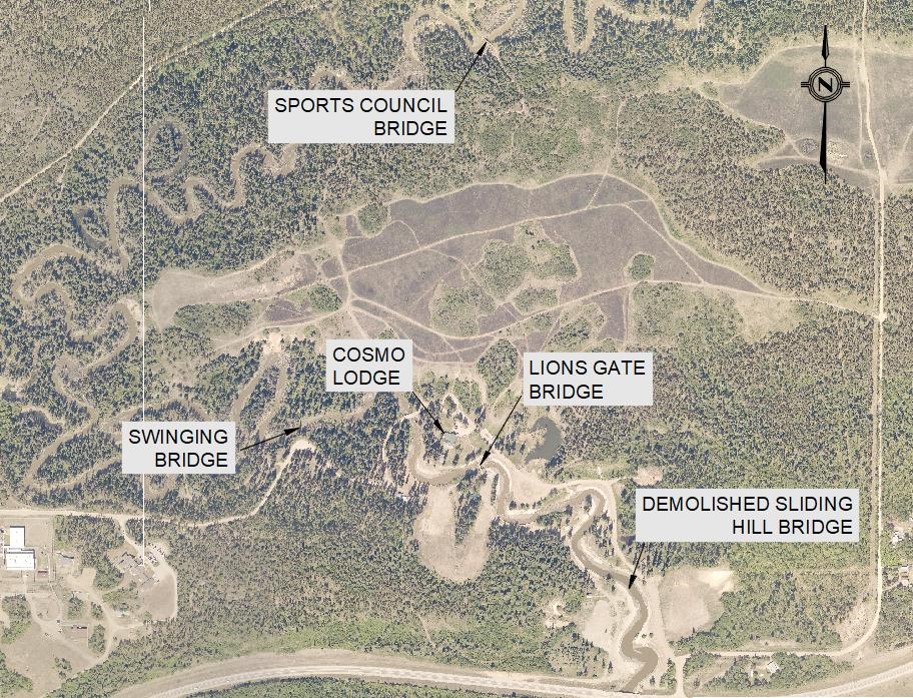 Timeline:
The Sliding Hill Bridge and Lion's Gate Bridge is anticipated to begin this summer with the bridges constructed by the fall of 2021.
The Sports Council Bridge is anticipated to begin in late fall/early winter 2021. Ground conditions around this bridge are more favourable for construction when the ground is frozen.
What can be Expected:
Existing structures will be demolished and replaced with steel bridges with wood decking. Since the main area of Little Red is prone to flooding, the Sliding Hill and Lions Gate Bridge will be built up to a height that keeps them out of flood area.
Disruptions:
Once construction begins, the pedestrian bridges will be inaccessible for the construction period.
A C Howard Park, Bliss Crescent

AC Howard Park was prioritized for replacement in the City's State of the Playgrounds report which is a comprehensive inventory and analysis of the City's 29 playgrounds. Completed by the Parks division it provides a condition report on each play structure identifying recent improvements and setting a priority rating for replacement.
The replacement of the playground structure at AC Howard park provides the neighbourhood with an innovative modern playground mixed with natural play components within the play spaces. Construction began mid-June, 2021 and was complete in mid-July 2021.
Media Release: AC Howard Park Re-Opens
Visit the AC Howard webpage for complete details and project updates.
Rotary Adventure Park at Little Red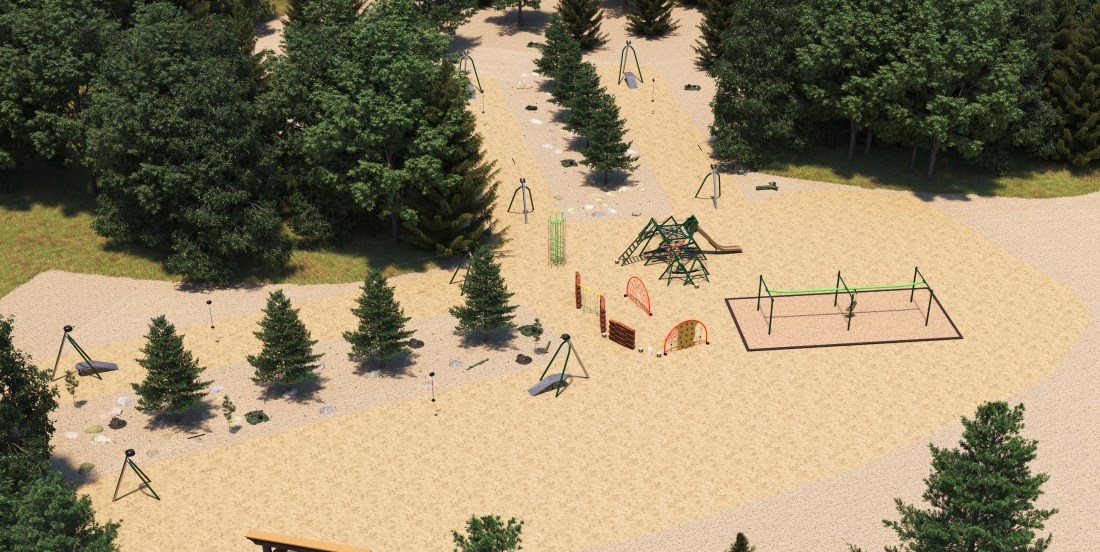 On March 1, 2020 the Rotary Club of Prince Albert celebrated its 100th anniversary as a service club in Prince Albert. As its legacy or Centennial Project, they want to spearhead and fund (65%) of an upgrade in Playground structure at Little Red River Park. The objective is to replace and refurbished existing infrastructure, add additional infrastructure and replace and expand playground Facilities.
Construction to begin in the Fall, 2021 and is scheduled to be completed by July 1, 2022
Location: Little Red River Park.
Party City Outdoor Gym at Alfred Jenkins Field House

The outdoor gym area would be one of the final phases of the Alfred Jenkins field house. It would be located at the South East side of the facility and would include a variety of outdoor fitness components within the 6100 sq ft of project space. Construction begins June 1, 2021 and is scheduled to be completed end of Fall 2021.