The City's Snow and Ice Control Policy describes how snow and ice control will be handled by the City once a snowfall hits.
Snow Plowing Priority System
Snow plowing is based on a priority system, starting with major roadways and emergency streets.
Priority 1 - Main arterials
Priority 2 - Collector streets, bus routes and school zones (including some downtown streets)
See the map for a visual of what priority streets are labelled. When storms are continuous, or closely follow one another, operations will be repeated or continued on the routes of highest priority until all such roads are completed before moving onto streets of a lesser priority.
For example, crews will leave the priority #2 streets, even if not complete, to return to priority #1 and start over.
Snow operations in our City at a glance
Prince Albert has 285 km of roads that we maintain
One snow operations crew
12 Crew members
4 Graders
5 Loaders
7 Tandem Trucks
1 Snow Blower
4 Sanders
Declared Snow Route Parking Bans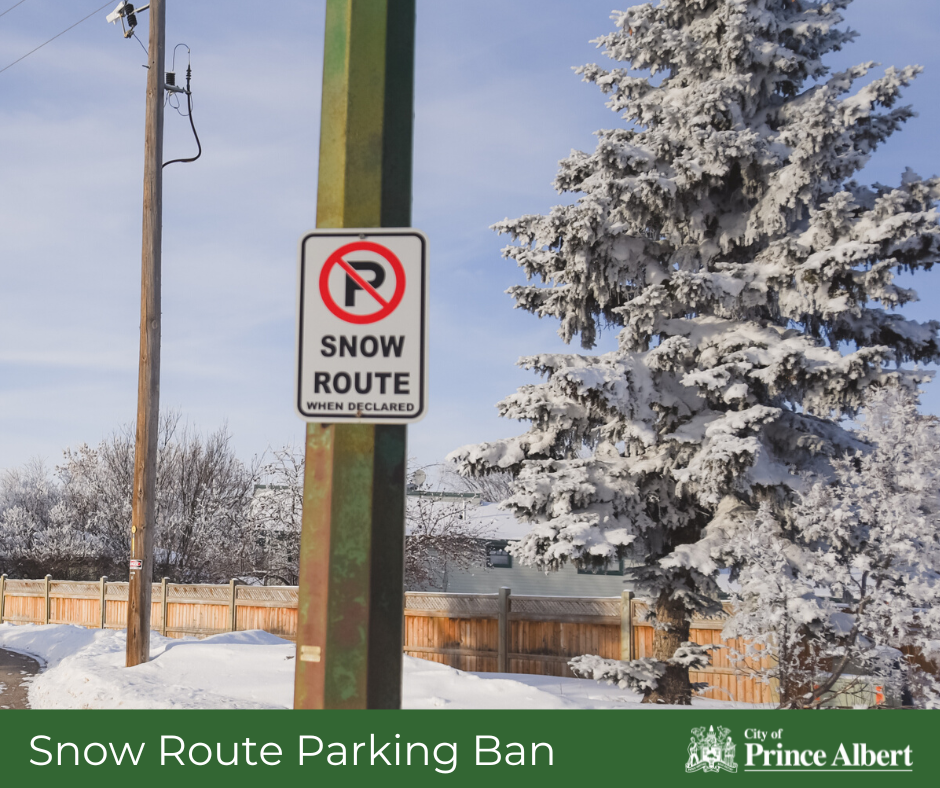 Parking bans are put in place to assist crews to quickly and effectively complete snow clearing from city streets.
Snow Route Parking Bans can be declared on Priority 1 streets when there are more than 4 inches of snowfall in a snowfall event.
A snow route parking ban is declared through:
A media release,
The City's social media,
The City's website homepage
Email to the snow route parking ban mailing list.
If you live on a snow route, please sign up for the snow route parking ban email list so you will be aware in the event that a snow route parking ban is declared. https://subscribe.citypa.ca/subscribe - please make sure you click the Snow Route Parking Bans box
A snow route parking ban is declared at 9 a.m. or 4 p.m. and is only in effect for 48 hours unless it is re-declared.
When a parking ban is in effect, cars parked on the snow route will be ticked and towed.
Temporary Snow Plowing Parking Bans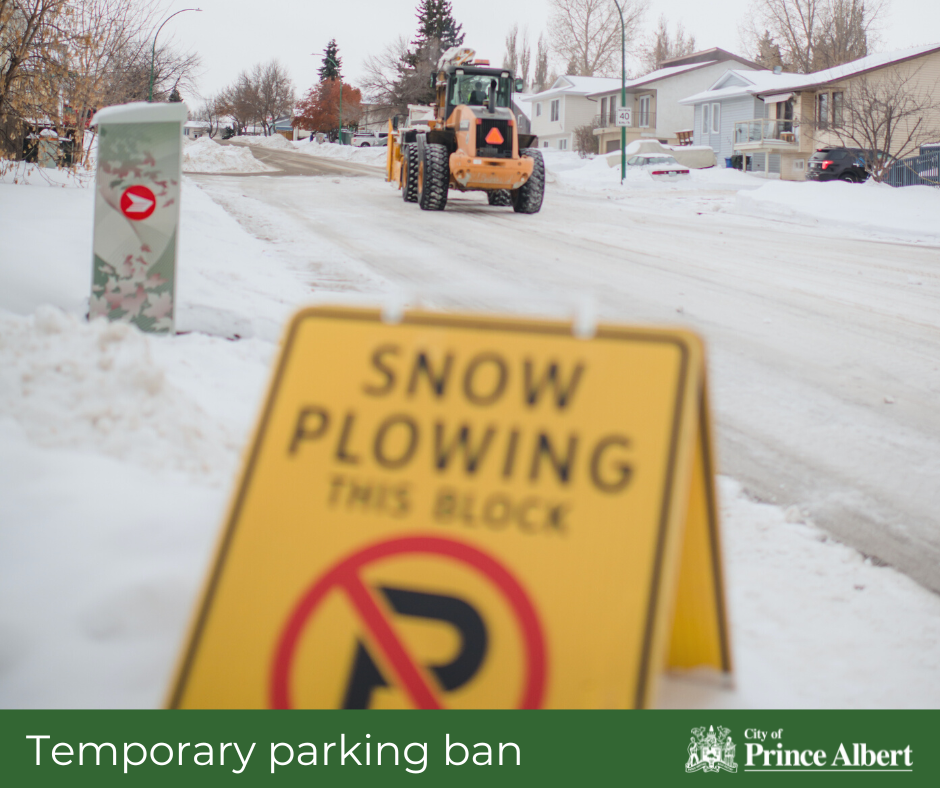 Parking bans are put in place to assist crews to quickly and effectively complete snow clearing from city streets.
Temporary parking bans are implemented as required on Priority 2 and other streets. Streets are signed at least 12 hours in advance to notify motorists of the temporary parking ban. Any vehicles parked on the road 12 hours after the signs have been put up will be considered in violation of the Snow and Ice Control Policy and the City of Prince Albert Traffic Bylaw, 2013 - Section 78(b).
Fines and Towing
Cars that stay parked on the street 12 hours after a temporary parking ban has been put in place are considered in violation of the City's Traffic Bylaw and risk fines and towing. If your vehicle has been towed, please see more information about the City's Impound Lot.
Driveways
Your driveway is the part of your property in front of your garage or an area where you park. The average width of a driveway is 10 to 12 feet.
The grader will leave a windrow on your driveway when the streets are graded. A loader follows the grader to clear up any windrows (or ridges) higher than 6 inches from the driveway.
Every effort is made to ensure that windrows higher than 6 inches are not left along a driveway.
If you see a high windrow on your driveway, allow some time before reporting it, as a chase loader follows the grader to clean up anything over 6 inches.
If it looks like we missed it, shoot us a message on this form - Roadways Report a Concern Form - and crews will come back.
Windrows under 6 inches in height are the responsibility of the property owner.
Windrows (snow ridge left along the curb)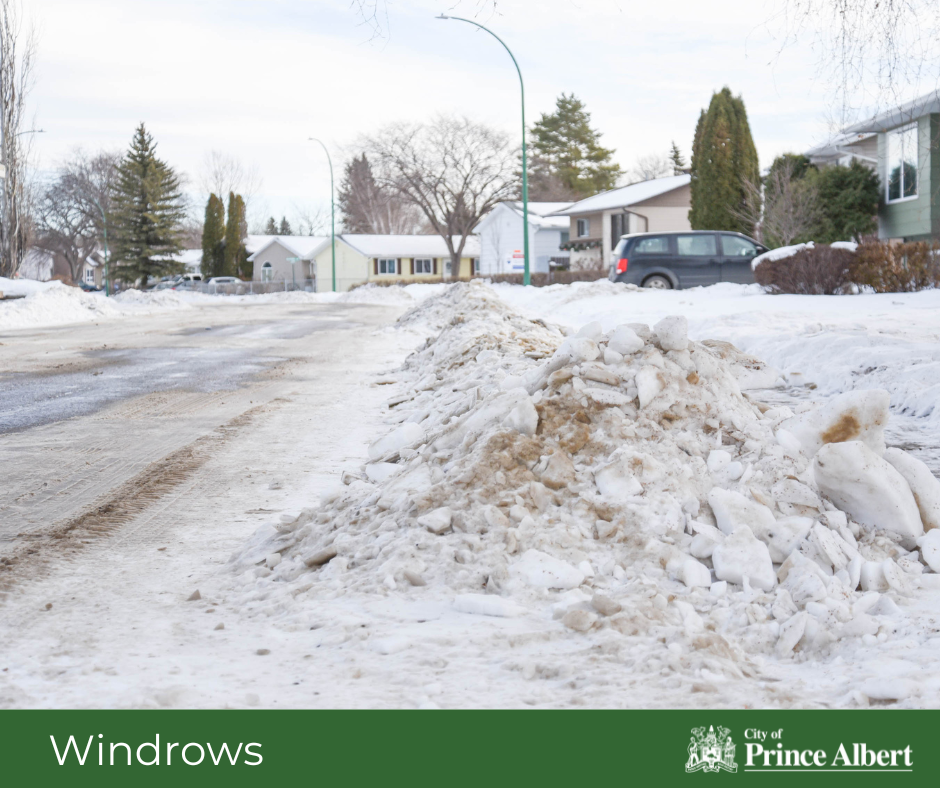 Snow grading means easier driving for all vehicles in residential areas but it also means there will be windrows.
A few notes about windrows:
A windrow is a snow pile left along the curb following street grading.
Streets are used for storage which means less space for parking and narrower driving lanes.
Residential windrows have never historically been removed. Locations where you can expect to see windrows removed are downtown, school zones, targeted arterial streets and bus stops. Private contracts can be hired by property owners at their own cost to lift snow in front of their home.
We will not return to remove windrows based on individual special requests.
If you have a driveway, graders will not leave anything snow ridge higher than 6 inches. If it looks like we missed it, shoot us a message on the Roadways Report a Concern Form , and crews will come back but, before you do allow at least 90 minutes before reporting as a chase loader follows the grader to clean up anything over 6 inches.
Up to one-third of the sidewalk can be used to store snow. The homeowner is responsible to clear the remaining two thirds.
Sidewalks
Snow will never intentionally be plowed snow onto City sidewalks.

However, in heavy snowfall conditions, up to one-third of a sidewalk may be covered with a windrow. City crews will not return to remove it.

The remaining two-thirds of the sidewalk would remain the homeowner's responsibility.

Crews will not cover the entire sidewalk with snow. If the whole sidewalk is covered due to snow plowing, please report it to Public Works: Roadways Report a Concern Form.

Businesses are responsible for clearing snow on the sidewalks in front of their business.

Sidewalk snow removal in the downtown area (Central Business District) is a requirement of the Clean Sidewalk Bylaw and is enforced accordingly.

For pedestrian safety and mobility, the City of Prince Albert's Snow and Ice Control Policy asks that property owners clear their sidewalks within 48 hours of a snowfall.

The city acknowledges residents that help clear snow for their neighbours through the Golden Shovel Awards administered through the Mayor's office every year. To nominate a resident, fill out an online form here.

Learn more about sidewalk snow responsibilities on our sidewalk snow removal page.
Sand and Salt Operations
In the Winter sand and salt trucks are out regularly during the week targeting high traffic roadways and problem areas throughout the City. With sand and salt, we would like drivers to keep in mind that that there are conditions that can limit its effectiveness. Salt, for example, will not melt the snow/ice if it's colder than -18 and sand can be quickly worn away from traffic on high traffic streets.
If there is an area that you think needs attention, please report it to Public Works - Roadways Report a Concern Form or see Reporting an issue tab below.
Piling Snow on Curbs, Cul-de-sacs and Main Streets
The piles of snow left along the curbs following snow plowing operations are called windrows. Except in identified areas, such as 2nd Avenue West, the downtown or 6th Avenue East, snow is not trucked away. This means that in most cases snow plowing will result in windrows on both sides of the road.
Snow is often piled in the center of a cul-de-sac or in the middle of a main street to allow for timely clearing of driving lanes. Crews will return at a later time to truck out the snow.
Shoveling Snow onto City Streets
It is against the City's traffic bylaw to shovel snow onto the street. Snow shoveled onto the streets and lanes from driveways and sidewalks causes further obstruction for drivers.
Properties found in violation of this bylaw risk fines.
Canada Post Community Mailboxes
Canada Post has a national program in place to address graffiti and other maintenance issues including snow removal at community mail boxes. To report concerns, contact Canada Post Customer Service at 1-866-607-6301 or send in a service request online.
Reporting an Issue
If there is an area that you think needs attention, please report it to Public Works.
By Phone:
Regular office hours:
Please contact Public Works during regular office hours at (306) 953-4900.
After-Hours (weekends, evenings and holidays):
For items that require urgent attention, please contact the After-Hours Assistance - Non Emergency line after regular office hours at (306)953-4348.
By Email:
Roadways Report a Concern Form
Snow Management Expenses
This video is from the record snowfall year 2021.
The snow management budget includes all labour, equipment and materials for snow operations including any costs associated with contracting out services during major snow events and clearing the rotary trail, downtown and city-owned parking lots. The City has crews ready to work 12 hours a day, 7 days a week to provide safe winter conditions for drivers and pedestrians.
Responding to Winter Conditions
City crews respond to whatever winter conditions exist in a year. In 2022 record snow accumulation led to sight line issues that have rarely been a problem in the past. Crews have responded with a record number of snow lifts to address this safety concern and to deal with unprecedented narrowing of City streets.
In 2022 the snow has been relentless. Crews are putting in long hours and that's just the reality of what's required. In some years it will mean deficits but we have to make the roads as safe and accessible as possible. - Mayor Greg Dionne.

Read More: Snow Management Reserve Report to be Consider By City Council
More Response = More Cost
Typically, more snow means more cost because crews are out for longer hours and where there are major snow events or winter storms, contractors are called in to clear streets faster.
Reserve Surpluses and Deficits
In 2014, the Snow Management Reserve was established to fund any overages for the snow management operations that may occur in future years. Each year brings new types of challenges. At times this means there are deficits in the reserve and in other years there are surpluses.
The annual snow management budget has increased from $696,090 in 2014 to $1,264,600 in 2022 to address the increase in operation costs. The general rule when approaching snow management has been to budget based on average expenses over the last three years. In the early years of this approach, it resulted in surpluses. By 2019 however, despite increasing the budgets more than the three year average, back to back years of higher than average snowfalls and a major snow event in November 2020 resulted in expenditures that led to ongoing deficits.
Below is a chart that shows the snow management budget versus actual snow management costs and the increase in budget and actual snow costs:
Snow Management

Budget

Actual
Costs

(Surplus) / Deficit

Increase in Budget

Increase in actual snow costs

Year 2014

($696,090)

$962,976

$266,886

Year 2015

($840,540)

$782,607

($57,933)

($144,450)

($180,369)

Year 2016

($873,360)

$642,093

($231,267)

($32,820)

($140,514)

Year 2017

($855,590)

$780,571

($75,019)

$17,770

$138,478

Year 2018

($874,750)

$1,147,971

$273,221

($19,160)

$367,400

Year 2019

($885,980)

$1,071,263

$185,283

($11,230)

($76,708)

Year 2020

($999,440)

$1,521,043

$521,603

($113,460)

$449,780

Year 2021

($1,118,490)

$1,200,530

$82,040

($119,050)

($320,513)

Year 2022

($1,264,600)

($146,110)
Addressing the Deficit
Rising costs year over year means that we are still working to address a deficit in the snow management reserve. It will be revisited every year as part of the budget process.