Public Art is art shown in a public space. Our Public Art Program is committed to getting and maintaining great public art that enriches our community. Learn more from our Public Art Policy. Check out our Event Calendar to explore upcoming art events in our community.
View our Public Art
Mahihkan – Owned by the Mann Art Gallery
Mann Art Gallery
Artist: Joe Fafard
The Mann Art Gallery raised funds for several years to acquire this wonderful public art by Joe Fafard.
John Diefenbaker Statue
Memorial Square at City Hall
Artist: Helen Granger Young
John Diefenbaker was Canada's 13th Prime Minister. He was Prime Minister from June 21, 1957 to April 22, 1963. He represented Prince Albert from 1953 until his death in 1979.
Spirit of the Games
Prime Minister's Park
Artist: Jack Jensen
This artwork was commissioned by The Saskatchewan Summer Games Committee in 1992.
The Totem Pole
E.A. Rawlinson Centre for the Arts (north side)
Artist: Les Potter
Donated to building by funds that were surplus to the Cultural Connection Committee of the 1999
Western Canada Summer Games
The Big Save
Johnny Bower Lobby, Art Hauser Centre
Artist: Jack Jensen
Prince Albert and Region Civic Facilities Association
Therese Gaudet & family commissioned the mural in memory of Ed Moore.
City Hall Mural
City Hall, West outside wall
Artist: Unknown
The Leo LeChance Memorial
Front of Provincial Courthouse
Artist: Lloyd Pinay
Indigenous man with eagle above
Canada 150 Mural
Alfred Jenkins Field House
Artist: Community Members with Lewis Lavoie's Mural Mosaic Company
Created as part of a Canada wide project in 2016
Untitled
E.A. Rawlinson Centre for the Arts
Artist: René Joshi Sims
Donated to building by funds that were surplus to the Cultural Connection Committee of the 1999 Western Canada Summer Games
Murals
On concourse walls in the Art Hauser Centre
Artist: Danny Dunn
Part of the "Bring Back The Magic" campaign in 2005/2006
The goals of the City of Prince Albert's Public Art Policy are to:
Build a visually rich environment;
Inspire community belonging and memory, enhancing quality of life and place;
Tell the story of and highlight the rich heritage including First Nations and Metis and the diverse cultural make up of Prince Albert;
Encourage the placement of public art throughout our City including large scale developments and residential neighbourhoods, identifying the unique character and/or history of that neighbourhood;
Offer an engaging option for commemoration of individuals, groups or events;
Provide art opportunities that are freely accessible to all;
Play a role in attracting, nurturing, and retaining creative businesses and workers, including artists;
Provide creative opportunities and recognition for Prince Albert, Saskatchewan, as well as Canadian and International Artists;
Strategically seek donors and funding opportunities for Public Art;
Serve as a catalyst to economic development and tourism;
Encourage public involvement, connections, and appreciation of the arts and cultural interaction; and,
Develop a City wide, including neighbourhoods, Public Art plan that considers various criteria.
The Pubic Art Working Group oversees and advises on the Public Art Policy and projects to the Community Services Advisory Committee and City Council. If you are interested in this active working group, contact the Arts & Culture Coordinator at the Prince Albert Arts Centre.
Temporary Public Art/Community Public Art Projects
Temporary public art and community public art projects
Crosswalk Art in Prince Albert
Crosswalk art can be found throughout parts of the city. These fun crosswalk designs were created by local and provincial artists and painted by City of Prince Albert staff.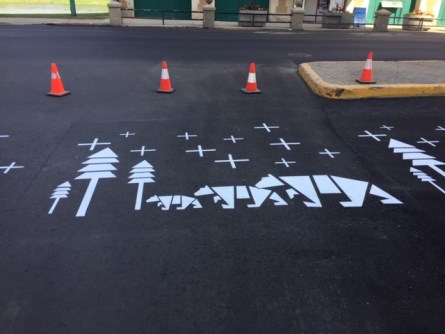 Historical Museum First Nations & Metis Murals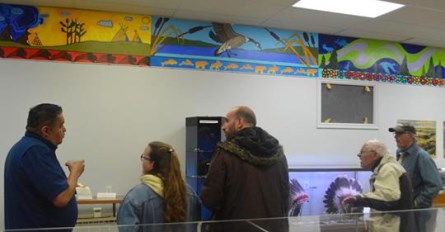 Opportunities to Get Involved
Want to get involved with the public art in our city?
Public Art Stimulus Partnership Fund Grant
The Public Art Partnership Stimulus Fund provides funds in support of one or two partnership project(s) per year that can assist a Prince Albert professional arts organizations, non-profit organization, municipality, school division, or private business, partnering with a professional artists, to complete a public art project.
Current calls for artists
There are currently no calls for artists.