2023 Notice of Mailing of Assessment Notices
Please Note: You will only receive an assessment notice in 2023 if there were any valuation changes to your property since 2022.
You can also print it out:
Understanding your Assessment Printable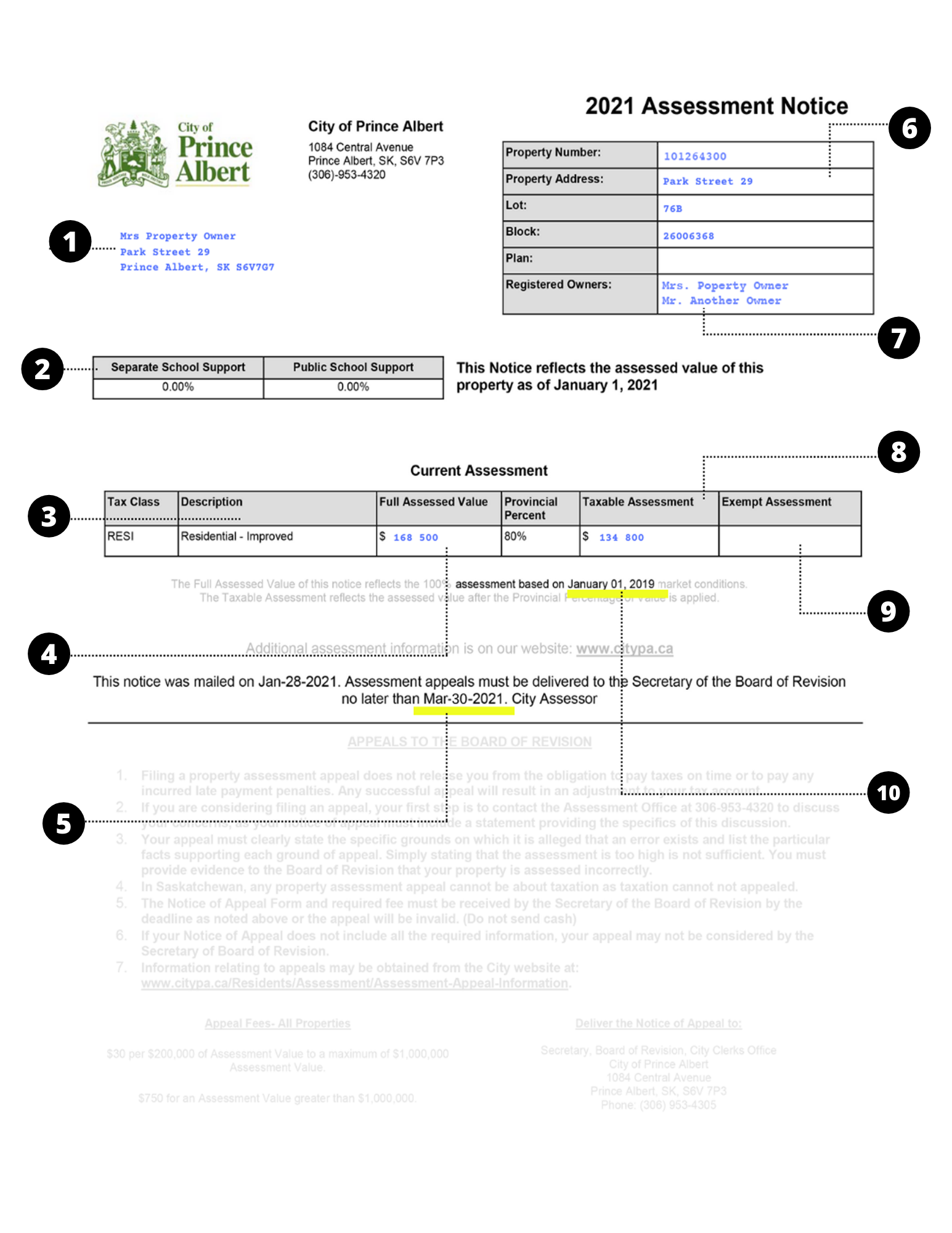 1. Mailing Address:
This area contains the name and address of the primary assessed person that the Assessment Notice is mailed to.
2. School Support:
The percentage of this property's taxes allocated to the two school boards.
3. Description:
This is the property classification applied to the property.
4. Full Assessed Value:
Your property's value is determined using Saskatchewan Assessment Manuals and provincial legislation. This is the 100% full estimated market value.
5. Appeal date:
This is the deadline to appeal this assessment.
6. Property Identification:
This area contains information to identify the property:
Roll Numbers,
Civic Address,
Legal Land description,
All registered owners on title.
7. Assessed Person(s)
These are either the registered owner(s) on title or owner(s) under an agreement sale.
8. Taxable Assessment:
This value is arrived at by multiplying the assessed value by the provincial percentage of value. This value is used to apply a mill rate and a mill rate factor to arrive at the property taxes.
9. Exempt Assessment:
A property may have all or a portion of its assessment excluded from the tax calculation. These exemptions may be granted by specific legislation (e.g.schools, hospitals) or by City Council agreement.
10. Base date:
The base date established by the Agency through a Board Order for the purpose of establishing assessment roll.