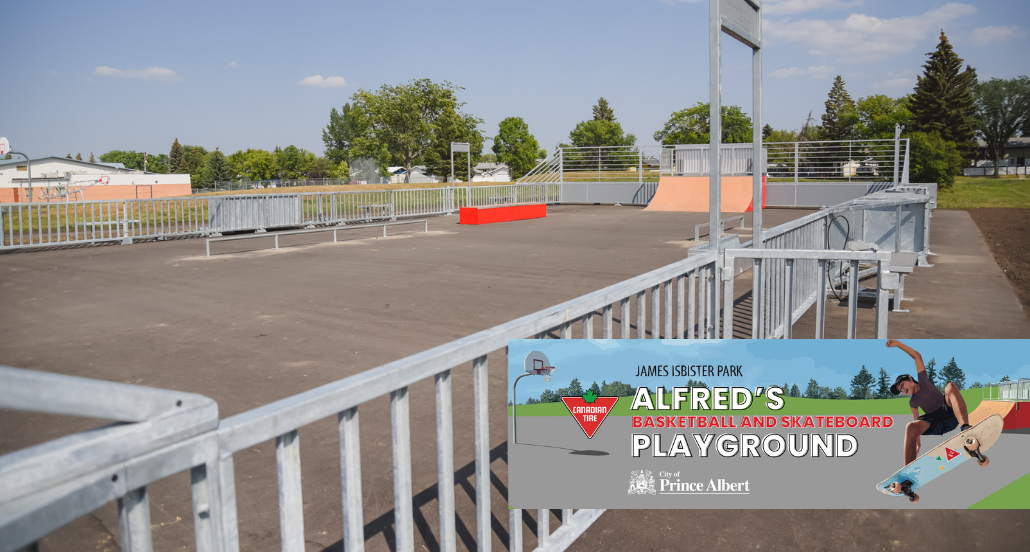 Prince Albert, Sk. – The City of Prince Albert is pleased to officially open the James Isbister Park – Alfred's Basketball And Skateboard Playground located on Macarthur Drive, West Flat. The $300,000 expansion was made possible through partnering with the Malcolm Jenkins Family Foundation, which contributed $200,000, and the City of Prince Albert, $100,000.
The new park features include The Musco Mini-Pitch 100' X 50' with benches, lockable storage, galvanized steel surrounding structure, and beverage holders. Six new basketball poles, backboards, hoops, and nets have been installed, allowing for increased pick-up games and programming opportunities for the space. The skate park and Musco Mini Pitch will be permanent installations remaining in place year-round. New Lighting is in the process of being installed. (Four lights to the Basketball Court and another two lights to the Skate Park). All Lighting will be directional and diffuse downwards to reduce any concerns with light reflecting into homes.
"We are grateful to Malcolm Jenkins and the City for this great opportunity to re-imagine a play space where persons of all ages can come and engage, play, and visit. We are a community building legacy through our park spaces, and this is another great example of what can be accomplished when we all come together to envision and believe for something greater!" Says Tim Yeaman, Parks and Open Spaces Manager for the City of Prince Albert.
James Isbister has been highlighted in the State of the Playgrounds report update in 2021 as a playground/park requiring immediate updating and refurbishment.
-30-
For more information please contact:
Tim Yeaman
Parks and Open Spaces Manager
Community Services
306-953-4800