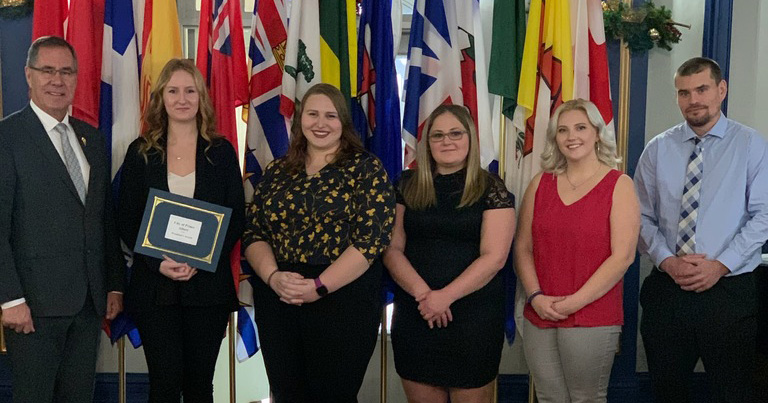 Saskatchewan Lieutenant Governor Russ Mirasty presents the RLS's Commonwealth President's Award to City of Prince Albert Aquatics staff Nachelle Spademan, Karli Hufnagel, Lauren Haubrich (Aquatics Recreation Programmer), Kaley Georget and Curtis Olsen (Recreation Coordinator).
Prince Albert, Sk. – The City of Prince Albert has been recognized as a major contributor in drowning prevention, and for over 50 years of affiliation to the Royal Lifesaving Society with the Commonwealth President's Award. The award was presented by the Lieutenant Governor of Saskatchewan, Russ Mirasty, on behalf of HM The Queen, patron of the Royal Lifesaving Society at the RLS Annual Vice-Regal Investiture ceremony Thursday at Government House in Regina. This marks only the second time the Commonwealth President's Award has been presented to a Saskatchewan organization.
"The City of Prince Albert has been an affiliate member of the Saskatchewan Branch for over 50 years, offering Lifesaving Society awards to its residents and visitors", said Shelby Rushton, Chief Executive Director of the Lifesaving Society-Saskatchewan Branch. "They are one of the most active affiliates in Saskatchewan and are very supportive when it comes to drowning prevention initiatives and public education."
"We are very proud of our aquatics staff and the initiatives they have introduced around drowning prevention including the public education," commented Jody Boulet, Director of Community Services. "Our staff also are encouraged to pursue further Society training and other continuing education opportunities through the Lifesaving Society."
The aquatics staff at both Frank J. Dunn Pool and Kinsmen Water Park advocate for water safety and drowning prevention year round through programming. Each summer staff at the Water Park host a Drowning Prevention week in July with many educational activities for the public promoting drowning prevention and sun smart education.
City Aquatics Recreation programmer Lauren Haubrich was also recognized with a Saskatchewan Branch Certificate of Recognition for her leadership and ambassadorship for the Lifesaving Society. Last month Haubrich was a presenter at the Interrnational Life Saving Federation's World Conference on Drowning Prevention in Durban, South Africa.
-30-
For more information please contact:
Shelby Rushton Jody Boulet
Chief Executive Officer Director of Community Services
Lifesaving Society – Saskatchewan Branch City of Prince Albert
Phone: 306-780-9255 Phone: 306-953-4800 ifesavingceo@sasktel.net jboulet@citypa.com