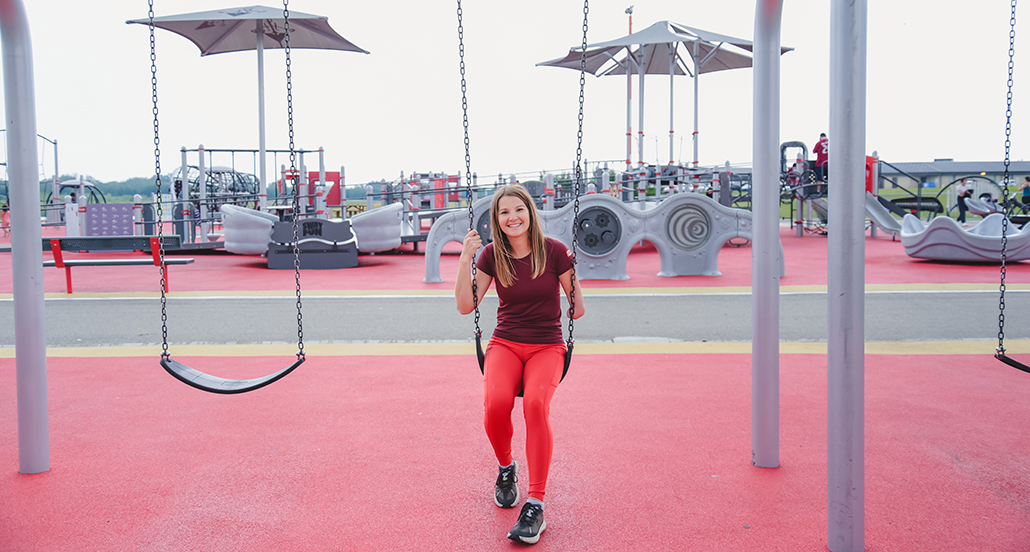 Prince Albert, SK. – Prince Albert Paralympic athlete Brittany Hudak today was presented the City of Prince Albert's Award of Merit by Mayor Greg Dionne at a ceremony during the Inclusive Playground Program Day at the JumpStart playground at the Alfred Jenkins Field House.
Hudak, a lifelong resident of Prince Albert, won bronze medals in Women's Individual Standing Biathlon and Cross Country Skiing Long Distance Classic Standing races at the 2022 Beijing Paralympic Games held in March. Hudak has represented Canada in 3 Paralympic Games now and has a total of 3 medals.
The City's Award of Merit is presented on the direction of City Council to citizens through accomplishments in varied fields, bring special honour to the community at large. Hudak is recognized as achieving individual and community distinction through her pursuit of excellence, endurance and persistence.
Hudak took time away from National Team Training in Canmore, Albert to attend the Inclusive Playground Program event today at the Field House. The session is part of the summer Playground Program specifically for children with ability challenges to utilize the specially designed equipment on the JumpStart Playground. The next Inclusive Playground Day is August 9th from 10:00 to 11:30 a.m.
Brittany Hudak will now rejoin Team Canada and prepare for a training session in New Zealand in August before competitions resume this fall in Western Canada and Finland.
-30-
For more information please contact:
Greg Dionne Bruce Vance
Mayor Marketing & Sponsorship Coordinator
City of Prince Albert City of Prince Albert
Phone: 306-953-4300 Phone: 306-961-4621
mayor@citypa.com bvance@citypa.com