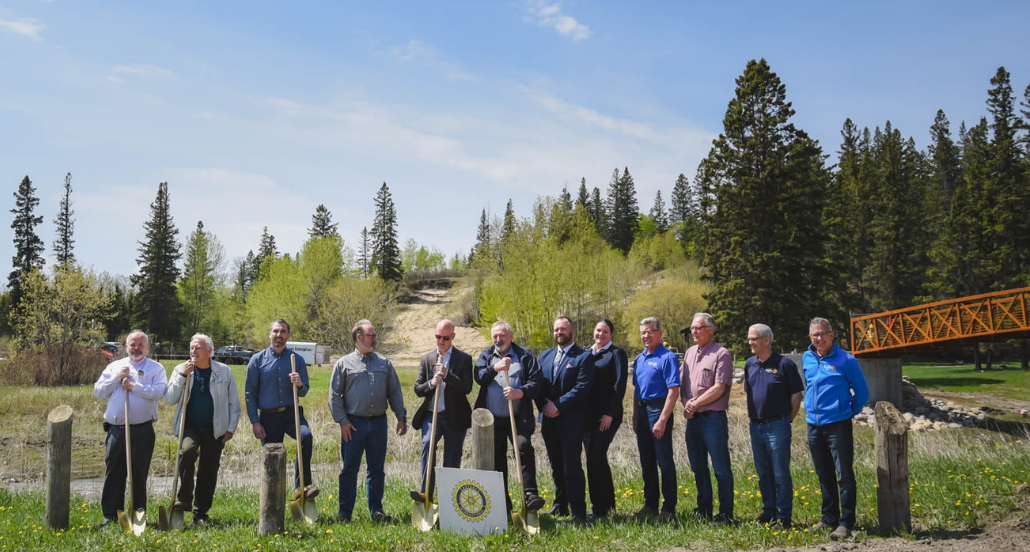 Prince Albert, Sk. - The Rotary Club of Prince Albert, along with the City of Prince Albert are pleased to announce that construction has begun on the Rotary Adventure Park at Little Red River Park. At a ground breaking today representations of the Rotary Club, City, Lake Country Co-Op, Prince Albert and Area Community Foundation and Malcolm Jenkins all took part in the ground breaking ceremony.
The Rotary Adventure Park and Zip Lines is an exciting Legacy building project in which a whole-family experience, in a natural environment can be had through play for all ages from toddlers to elders. The park will offer connective trails, play spaces, challenge spaces, picnic sites and opportunity to the community, including multicultural, senior and future generations, a barrier free natural area with no charge public access.
Canadian Recreation Solutions will be on site at Little Red to start assembling the park this week. Completion which is scheduled for July barring major construction and/or weather delays.
-30-
For more information please contact:
Keith Fonstad
Rotary Club of Prince Albert
Phone: 306-310-3328
Keith.Fonstad@mnp.ca
Tim Yeaman
Parks Manager, City of Prince Albert
Phone: 306-953-4800
TYeaman@citypa.com