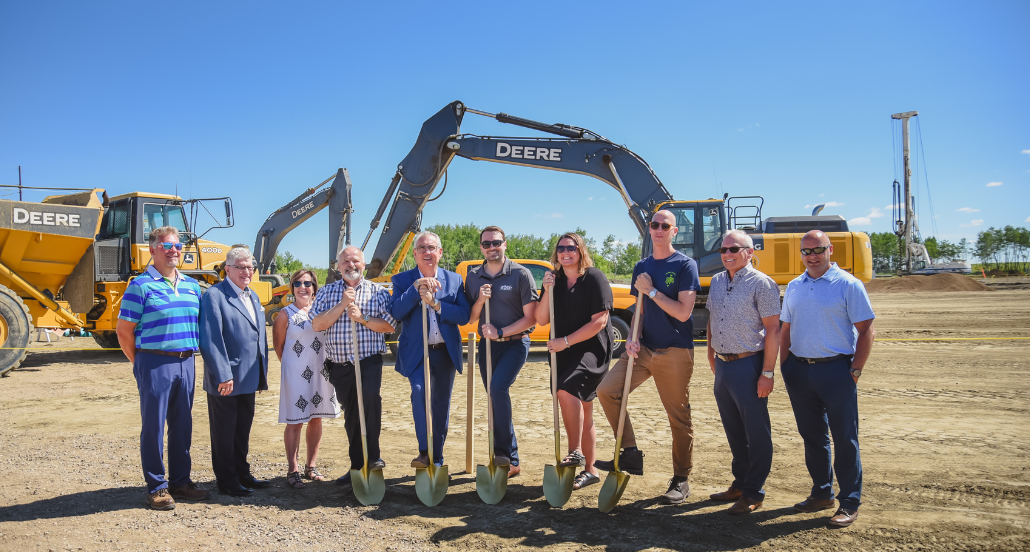 Today, the City of Prince Albert hosted an official ground-breaking ceremony to celebrate the start of major construction of its new Aquatic and Arena Recreation Facility, which will position the community for growth, and support cultural and recreational opportunities for the region once completed.
Prince Albert City Council awarded the tender to Graham Construction LP in June of 2022, and on-site work started later that same month. Site preparation occurred last year.
Once completed, the facility southeast of Marquis Road and Sixth Avenue East will include on the aquatics side, an eight-lane, 25-metre competitive pool, 200 spectator seats, combined leisure, splash and wave pool, lazy river, two water slides, along with a whirlpool. On the arenas side, it will include two NHL-sized rinks each 200 feet by 85 feet, seating for 366 in one rink and 608 in the other rink, player dressing rooms totaling 6,720 square feet and referee dressing rooms totaling 800 square feet. The facility is expected to open in 2024.
Under the Investing In Canada Infrastructure Program, the Government of Canada is funding up to $24 million toward the project and the Government of Saskatchewan is contributing up to $19,998,000. The City of Prince Albert is funding the remainder.
"Recreational facilities like the one being built in Prince Albert are cornerstones of our communities - they are where kids can learn to swim, where seniors can stay active, and where lifelong friendships are formed. Working with our provincial and municipal partners, we will continue building stronger and more vibrant communities, in Saskatchewan and across the country," said the Honourable Dominic LeBlanc, Minister of Intergovernmental Affairs, Infrastructure and Communities.
"The Government of Saskatchewan's more than $19.9 million investment for the Aquatic and Arena Recreation Facility will help this City of Prince Albert project move from vision to reality. Once it opens, this new infrastructure will enhance recreational and cultural opportunities for city and area residents, and for all who visit and do business in the province's third-largest city, which serves as Saskatchewan's 'Gateway to the North,'" said Mr. Joe Hargrave, MLA for Prince Albert Carlton, on behalf of the Hon. Don McMorris, Saskatchewan's Minister of Government Relations.
"This project would not be possible without help from the provincial and federal governments. This is an exciting project for our community. We are already seeing that this will not only be a hub for recreation in Prince Albert, but also a new entertainment district that will include hotels, restaurants, and retail stores," said His Worship Greg Dionne, Mayor of the City of Prince Albert.
For more information about the project, visit: www.citypa.ca/recreationcentre/
-30-
For media inquiries, please contact:
Mayor Greg Dionne
306-953-4300