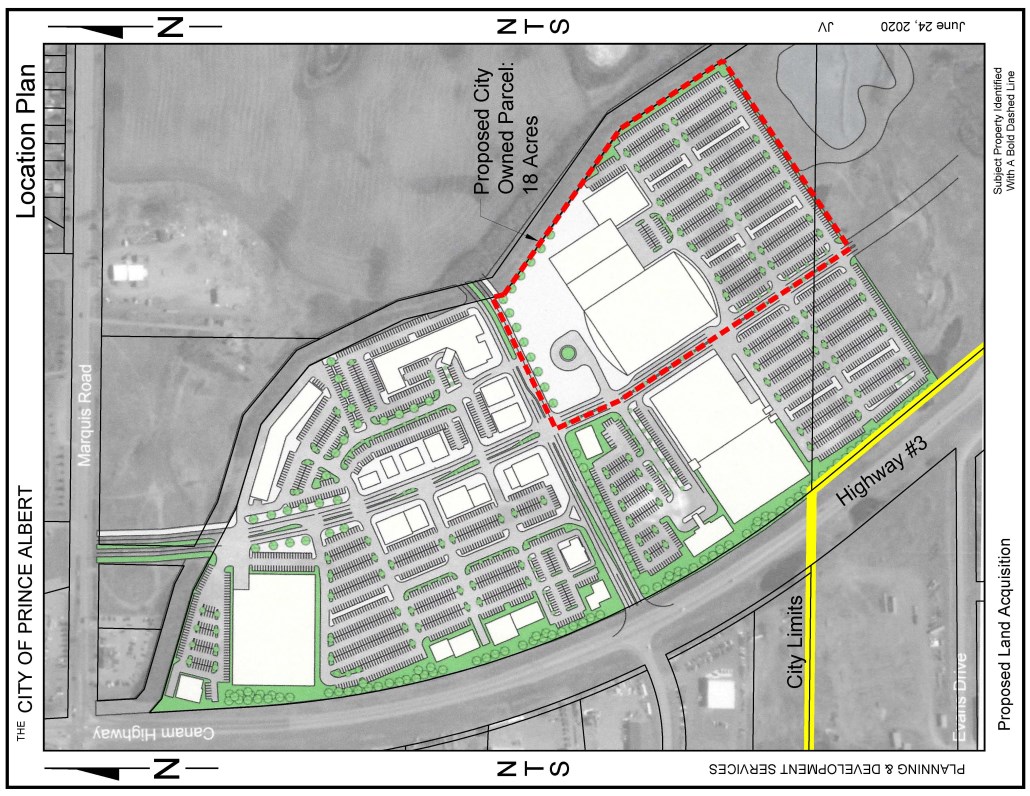 Prince Albert, SK - City Council, at the Monday, June 29, 2020 meeting will consider a recommendation to proceed with the purchase of 18 acres of serviced land located in the South East portion of the city between Highway No. 3 and Marquis Road from Signature Development Corporation. This parcel of land is proposed to be the site of a new Aquatics and Arena's recreation centre which will include include two 68,000 square foot hockey rinks (which will seat around 800 people each) and a 47,000 square foot aquatic centre.
The Aquatics and Arena's Recreation Centre is expected to be the first of three phases of development at this location. "At this stage we are also exploring funding models that will allow for us to include the second phase, a 125,000 square foot entertainment centre and arena which will be part of the RFP for the design of the new facilities," said Mayor Greg Dionne. "This land purchase is the first step in the process and will set us up for future expansion as needed."
Phase I Construction of the new Aquatic and Arenas Recreation Centre
Phase II Construction of an Entertainment Centre which will house a large Arena
Phase III Other Development Opportunities (Convention Centre, Branch Library, etc.)
The 18 acres recommended for purchase is part of an 80 acre parcel owned by Prince Albert based Signature Development Corporation. The entire 80 acre parcel will be developed and serviced for future commercial development.
"The vision for the area is for it to be developed as an Entertainment and Commercial District with complimentary service based businesses locating in the area," said Gord Broda, President of Signature Development Corporation. "Our research shows that there is a need for this type of commercial space in Prince Albert and the Recreation Centre fits well with the vision we have for the area."
If approved, the next step in the process will be to proceed with land development and servicing and hiring an architectural firm to begin conceptual designs for the new facility.
"This recreation centre is an important project for Prince Albert and will represent the single largest recreation based development in the history of our City," said Mayor Greg Dionne. "I am very supportive of the proposed location given its potential for future development and taxation revenues which can be used to offset any borrowing required for the facility."
The City of Prince Albert's application to the Canada Infrastructure Program was approved for $44 million of the $60 million project which includes $24 million from the Federal Government, nearly $20 million from the provincial government and the remainder from the City of Prince Albert.
There will be no tax increase to fund the new Aquatic and Arenas Recreation Centre. The land purchase will be made using existing funds set aside in the Civic Facilities Reserve which was established in 2014. This reserve will be used for future payments for the new facility.
"This funding was due in large part to the hard work of our local MLA Joe Hargrave and MP Randy Hoback who helped us through a revision to the original application," said Mayor Dionne. "With this project and the Victoria hospital addition and renovation on the horizon we have a lot to look forward to in the coming years including getting our people back to work to complete these major infrastructure builds."
-30-
Requests for media interviews will be considered the morning of Tuesday, June 30, 2020
Mayor Greg Dionne
(306) 953-4300
Gord Broda
President, Signature Development Corporation
(306) 765-2500