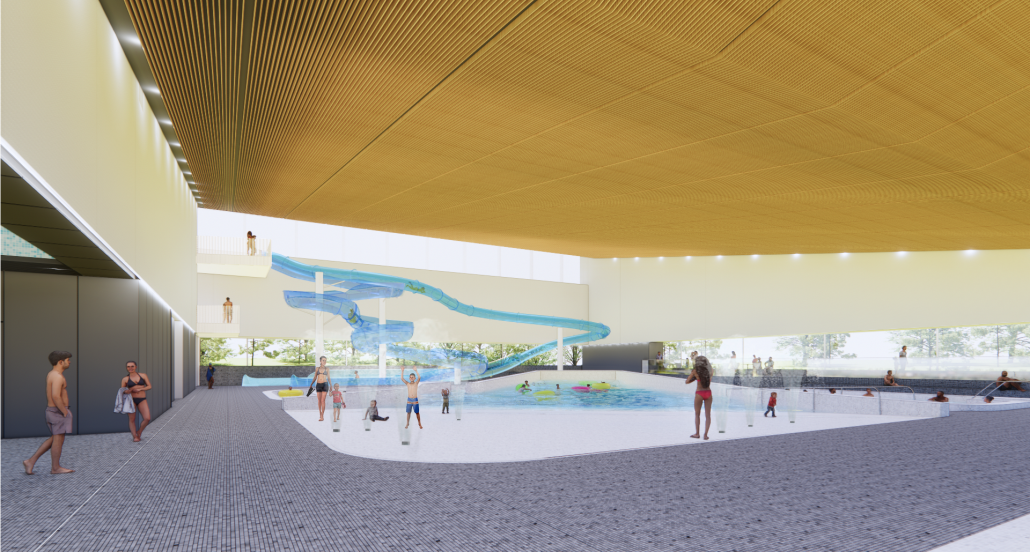 Prince Albert City Council has approved the tender to award the construction of the new Aquatic and Arenas Recreation Centre to Graham Construction LP. The project tender was up for consideration at the June 13, 2022 City Council meeting following years of preparation with the original grant application submitted in 2019.
Over the past year, the City has been working with the architects to design the facility including most recently the review and approval of thousands of drawings and pages of specifications that cover elements of architectural, civil, landscaping, structural, mechanical, and electrical and controls for the facility.
The tender as approved will see the facility built with the same features as originally announced. On the aquatics side this includes an 8 lane 25 meter competitive pool, 200 spectator seats, combined leisure, splash and wave pool, lazy river; two water slides and whirlpool. On the arenas side this includes 2 NHL size 200ft x 85ft rinks, seating for 366 in one rink and 608 in the other rink, player dressing rooms totaling 6,720 square feet and referee dressing rooms totaling 800 square feet.
"This is an exciting project for our community. We are already seeing that this will not only be a hub for recreation in Prince Albert, but also a new entertainment district that will include hotels, restaurants and retail stores," said Mayor Greg Dionne. "It will be an attractive amenity for not only our families that live here, but those that are considering Prince Albert as a place to live."
Prince Albert City Council also approved a revised funding plan for the facility to account for the rising costs due to inflationary pressures. Bid prices received for the construction were 35% above the pre-tender estimate for the facility with the total project budget coming in at total cost of $113.8 million.
The revised funding plan continues to include no increase in property taxes to fund the new facility. This is achieved through the following measures:
Reducing the build costs by $7 million by modifying non-functional elements;
Increasing borrowing by $30 million for a total borrowing of $46 million;
Securing $24 million in external dollars through provincial and federal funding and fundraising initiatives; and
Annual financing payments through the Civic Facilities Reserve and targeting property tax revenues from the Yard Development.
The funding plan for the facility was first considered at a Special Executive Committee meeting at the Wednesday, June 8, 2022 meeting and forwarded to City Council for final consideration.
"We had a very good discussion on the funding plan," said Mayor Greg Dionne. "Inflationary pressures are not going away. I'm pleased we were able to find a way forward that gets this important facility built for families and children in Prince Albert."
The approval of construction tender means the project will break ground this summer with an opening scheduled for 2024.
-30-
For media inquiries, please contact:
Mayor Greg Dionne
(306) 953-4300