We are upgrading all water meters in the City. If you still have an old meter and you have missed the Water Meter reader, you can submit your water meter reading in a variety of ways.
Please note: All water meters must be replaced. If you still have an old meter, please book an appointment immediately.
Submit your water meter reading online.
Call Water Utility Services to leave a message on our 24-hour service line.
Fill out and mail the card you received from water meter readers.
Drop off the card at 1084 Central Avenue during regular hours. The office is open from 8:00 a.m. to 4:30 p.m. You may also drop the card in the drop box that is located at the west doors of city hall.
Email your reading to water@citypa.com
Call Water Utility Services during office hours to speak with a representative. Employees are available from 8:00 a.m. to 4:45 p.m.
Reading Your New Water Meter
Your new transmitter is equipped with an advanced metering analytics (AMA) system which includes features such as leak detection, backflow monitoring, and remote meter reading. There is no longer a need to submit water meter readings since this is done remotely.
Water Usage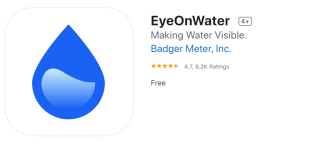 The EyeOnWater mobile app is now available for download on iOS or Android devices, and allows you to connect to supported water utility accounts and see your latest water usage. Understand how much water you use, detect leaks, and discover trends for when you use the most water.
Quickly view your recent water usage with a two week comparison.
View detailed water usage history by day, week, month, and year.
Discover your short and long term water usage trends.
Detect leaks and reduce water waste.
Easily contact your water utility.
Download the app on the App Store or Google Play Store. To sign up all you need is your account number (found on your water bill) and postal code.
If you do not have access to a mobile device and would like to find out about your water use, please contact Water Utility Services.
Changes in Water Usage
After your new meter is installed, you will notice an adjustment to your water meter readings. This might mean an increase or decrease. Factors that will influence the change are:
The timing of your install
Your previous bills may have been based on an estimate. The new meters provide daily readings of actual consumption. The adjustment from an estimate to actual will affect your bill.
The timing of your readings
Your first bill will include an up-to-date reading. Previously meters were read up to three weeks in advance which would not have appeared on your bill. This would be a one-time adjustment since all readings will be up-to-date going forward.
Water Meter Screens
The new water meters rotate between four digital screens. See below for a description of what you will see on each. In the bottom left of the screen there is a space for status indicators when something is detected. If you are concerned about an indicator, please contact us at Water Utility Services. Please also keep in mind that these detections are also provided through the EyeOnWater mobile App which can be downloaded through the App Store or Google Play Store.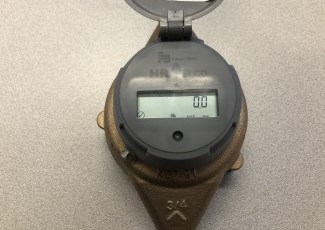 Screen 1
This screen shows the flow rate of water moving through the meter in gallons per minute.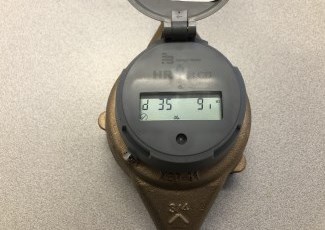 Screen 2
This screen shows the type of meter, model number and number of digits on the reading screen.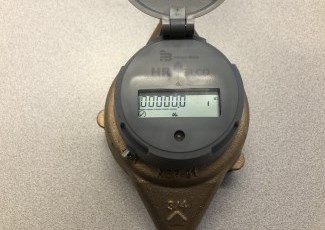 Screen 3
This screen shows a six digit read of the total amount of water through the meter.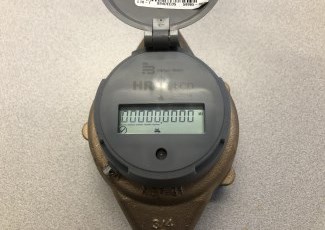 Screen 4
This screen shows the full nine digit read of the total amount of water through the meter.